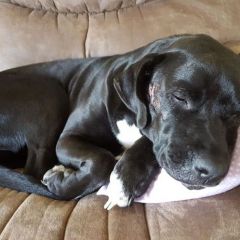 Entry posted by eclarue ·
538 views
Week 5.5 update

Skin: still oily and tons of clogged pores and some active zits as usual. Really still no noticeable change in my face. It feels so gross. All of my pores are huge and clogged. Skin texture is bad as well. The usual.

Side effects: headaches have mostly gone away but I've had some decent back pain since upping to 80 mg dose. My whole thoracic spine and muscles around it are SO tight and stiff. It has been rough to workout and I had to lower my squatting weight because my back was on fire. No major skin dryness yet. The back of my neck near my hairline is really itchy but not dry. Skin on my ears Is a little dry. Lips will crack if I go without vaseline or the bite beauty lip mask for even 10 mins. As long as I am diligent with those they stay fine with no peeling or cracking. But I can see how easily it can start and get out of control. If I go too long they get extremely tight and start to split in the middle. I had to use regular ChapStick for an hour and my lips started to split in the middle. Be diligent with Vaseline and the lip mask though and they are totally manageable for now! Hair does feel dry. And I still can't help myself from trying to pick at zits or Pores so always have at least one very red scab on my face. Don't pick at anything. Seriously. It will end up looking much worse than it did originally.

Counting down to month 3 which is when my derm said a lot of people notice improvement. I can't wait to feel some change in my skin. It just feels so gross and embarrassed all the time about my skin. really can't wait to have more confidence and not always be thinking and worrying about my skin! Come on accutane please work!!!