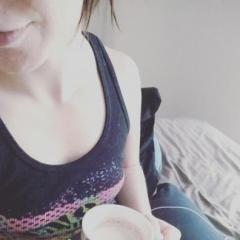 So I'm into my 4th month of using my regimen and I'll be 30 in a week. It's almost here! This is the last week of my 20's. And while I have a lot of feelings about it, at least one of them is an okay feeling. And that's about my skin.

By no means do I have the poreless, scarless, even-toned skin of my dreams. But I think I've come a long way from my teens where I was applying every harsh painful chemical to my face my mother could find. And my 20's where I was jumping from one magic cure to the next.

The breakouts I was having seem to have been a purge. Maybe it helps that I cut out gluten and maybe it didn't. But I do know that I believe in AHA and Retinol. Once I'm out of my current supply I'll be moving up to stronger percentages and easing into it all over again.

I have experimented with some new products thanks to my ipsy subscription. Pure Botanicals Resurfacing Moisture Mask and Dr. Brandt microdermabrasion exfoliator.

I like them both. The Pure Botanicals is something to do really quick if you're suddenly going out and realize your skin seems a little dull. Dr. Brandt is a once a week crystal formulated physical exfoliator. It can feel a little harsh, but just rub it in for a minute and rinse and it does a great job of getting gross, dry winter skin off. It's too early to tell if it works on wrinkles like it says, but I like it.

I'm going to keep with this and update again in a month. Here's to my 30's!