One Month Down: Surprise Development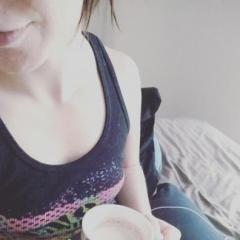 So one month of the AHA and Retinol usage has come to pass. I haven't missed any applications and I'm feeling good about my decisions to do this.

I'm still not sure what kind of results I'm seeing, nor am I confident I will ever be rid of the pitted/rolling acne scars or the occasional break out.

But! I will definitely take softer skin, less turn around between pimple appearances, and a somewhat more even skin tone of that happens to be what I get out of it. My mother, who anyone can tell has played a critical part in my skin issues, even said that my skin looks great. So, maybe there are noticeable differences after all.

Oh, and as for the surprise? I am a furrower. I'm constantly raising or knitting my eyebrows together. This has resulted in deep horizontal forehead lines, as well as two deep and visibly noticeable vertical lines between my eyebrows. I'm never going to get rid of the forehead lines, that's just life, but the lines between my eyebrows have gone away. I used to be able to feel the creases where they came together and this treatment I've begun seems to have started eradicating them! Hooray for unintended consequences!

I still have pimples showing up around my jaw line and by my ears. They subside more quickly than they used to, although the left over pigmentation still happens. I'm not sure that will ever stop happening as much as start going away more quickly. I'm hoping that will eventually taper off, but it's hard to say.

I have decided to up my application of AHA at this time. I'm going with AHA, Retinol, AHA, break and etc. I think my skin should react okay to this and I should be able to avoid any nasty backlash.

So, here's to the continuing journey! I will continue doing updates of course and look forward to what's in store for my skin!