Week 3: Purge or Scourge?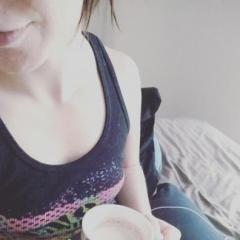 I've just applied my last AHA treatment for this week. Just one more Retinol application tomorrow and I'm into the next week.

So here's the thing. Pimples. I have three active ones around my jawline and neck and two recovering on their way out. One is right by my nostril and one was right between my nose and lips. All normal places for me to breakout.

The two on their way out of town blossomed in my sleep after a Retinol application. They started as little things and suddenly become very painful and noticeable cyst-like things under the skin. While they started to disappear that very day after using tea tree oil, I can't help but wonder if this is a purge, a scourge, or an unrelated crop up thanks to something else.

I'm feeling a little discouraged, to be honest, and worry that my skin is actually looking worse. Not just because of the few pimples. But just in general. Tone and such. I'm trying to remember that AHA and Retinol are not, in fact, real-life Photoshop and it will take time to progress. And that no one critiques my skin as much or as closely as I do.

It's sort of like growing your hair out from a pixie cut, I think. You know the end result will be good, but the weird in between thing you have going on with the awkwardly growing hair is almost enough to make you chop it all off again and call it quits. I just have to stay strong and keep watching multiple skin for any truly bad developments.

I am thinking that it's time to increase my AHA applications, though. I think my skin is definitely used to it enough to move forward a bit.

Right now it's:
AHA, Retinol, Rest, AHA, Retinol, Rest, AHA and so on.

Of course I don't want to agitate my skin too much still. Maybe AHA, Retinol, AHA, Rest, AHA, Retinol, AHA and so on. I'm not sure. I've actually been using the AHA longer than the Retinol, so I want to wait a bit longer before increasing both. I also don't want my skin to freak the heck out. Eventually, though, I would either use both everyday or up the potency. Something I definitely need to look into.

Anyway, my skin is still very soft and I am at least happy with that aspect. No grimey, cakey moments and my face, at least, has been immune to the horrible dry air here in the mountains.

Onwards and upwards!