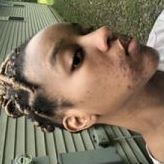 I came home for Christmas break on December 16th, 2017. It was on that day that I decided that I would work on fading my dark spots. I bought Palmers Skin Success Fade cream (for all skin types) and Fruit of the Earth Vitamin E Skin Care cream to help fade my dark spots. I use both of these creams twice a day ( in the morning and at night). My routine is strictly as follows:
1. Wash my face ( I use proactive extra strength so I follow all steps normally)
2. After step 3 (applying moisturizer) I wait till my face is dry and take the fade cream and apply it on my spots ( I do this in sections) After applying small amounts of cream on my spots, I take my time and rub the fade cream into them.
3. After the fade cream has been rubbed into all my spots, I wait 30 minutes before applying the vitamin e cream. I take the cream and apply small dots of cream over my spots and rub it in LIGHTLY.
4. Repeat at night.
Now I know this seems like it would take all day but it has actually been working for me.
The pictures I am uploading are from when I first started my regime till now.
I am going to upload progress pics every Friday.
The pictures on the left were taken on December 16th, 2017 and the ones on the right were taken January 6th, 2017.
Feel free to leave any comments or questions. Thanks!