The Beginning is... Complicated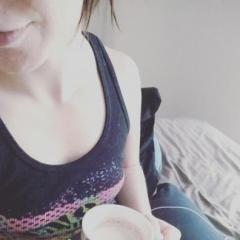 I turn 30 in a little over 3 months.

Thirty years old.

I realize in the grand scheme of things that this isn't actually old, but I do feel a sense of loss at this milestone. Growing up in my generation (the tail end of the millennials) we were all told that by thirty you pretty much have it figured out. You're married and have a house and a career. You're adulting the best you can adult.

And you have great skin.

I have none of that. None! A bad job, a useless degree, I rent a tiny apartment that costs too much, and my boyfriend just got out the Air Force and is starting school 3 hours away. Plus, you know, the skin thing.

I might be able to deal with the rest, if it weren't for the skin.

Growing up I heard that pimples were a thing of teenage years. And even if you had pimples into your 20's, they're gone by 30. Plus, if you cleaned your face religiously and spackled on this or that burning cream and didn't pick, you wouldn't get scars.

I wish I knew then what I knew now.

Back when this all started, 15+ years ago, acne regimens were basic. Creams and gels and cleansers and pads that burned and made your skin peel off were thought to be working harder and better. Hell, my mother tried to make me scrub my face with a vegetable scrubber. You know, the plastic bristle covered things meant to remove wax and dirt. Because pimples meant you were dirty. She made me drink huge glasses of orange flavored fiber powder everyday to the point that I had some intense physical distress. Because pimples were from carbs and chocolate. But other than my mother's crazy antics, pimples had a pretty standard set of "cures". Pimples were pimples and skin care was pretty much the same for everyone across the board.

Now we know there are different kinds of acne caused by different kinds of things. We know that no one thing is the culprit for everyone and tons of people are suffering from acne well into adulthood. And we know that treatment is not handled the same in each case.

These days my breakouts are infrequent, although they still happen. I take a combination birth control that has helped a lot and have settled into an acne prevention regimen and attack plan that work well for me. Now is the time for me to work on these scars, even as hopeless as it seems to try. I worry about my possible future wedding day and looking at my lumpy face in pictures. I worry about aging and feeling less and less comfortable with my face because of lasting pits and marks. Call it shallow, but no one wants to focus on their flaws, it's just that my flaws are out in the open. So, it's time to really buckle down.

Over the years I've tried so, so many things for scars. Unfortunately I have cystic acne, large pores, and a very oily face. The cysts damaged the pores, the pores became more susceptible to getting cysts, I got more cysts to cause more damage, and here we are.

I started out using a physical exfoliator from Neutrogena years ago. I loved how soft it made my skin and I swear by exfoliators for acne, I just think a chemical approach make be more successful. So here's what I have going on.

Morning:
-Wash with Olay Regenerist Regenerating Cream Cleanser
-My own homemade toner
-Garnier Vitamin C Dark Spot Remover
-Moisturizer, right now it's Symphony Beauty Snow Cream
-Neutrogena 30 SPF sunscreen

Afternoon:
-Remove makeup immediately after work

Night:
-Wash face with MSM (Methylsulfonylmethane) cleanser
-Homemade toner
-Paula's Choice 8% AHA gel, 3x a week
-Paula's Choice 1% Retinol Cream, 2x a week on AHA off nights (leaving 2 nights completely off of any extra product)
-Nuxe Nuxellence Detox
-Tarte Maracuja Oil

I also take:
-Reuteri (probiotic)
-Garlic oil
-Oregano
-MSM
-Tumeric

And I drink 50 FL oz of water a day (as a 96 lb, 4'10" woman).

So, there you have it. I'm posting my journey in an album as well to show any progress or failures. Eventually I would love to have more drastic work done to my scarring, but I work retail and live alone and just can't fork out the cash for repeat procedures. Wish me luck!