3 and a half months on accutane, This is shit. (graphic you have been warned)
Entry posted by Jacob a ·
791 views
So after my initial progress I have gained no new cysts. Yay. This however has been traded it seems for the most severe cysts I've ever had. The flesh comes to a head and then scabs over and this puffy inflamed flesh is left under which is very sensitive and infected. My dermatologists more than doubled my dose of clindamiycin to 300mg 150mg and 300mg spaced evenly throughout the day. My skin isn't very dry nor are my lips chapped despite being on a 100mg dose. I rarely need to moisturise my face.

I'm trying to be as normal as possible however clubbing has lost all of its fun when people walk up to you and say "hey man what the fuck happened to your face" and then you have to explain to them or worse yet try to prod it, that guy got a slap.... Going out for meals has become my new pastime and I just go to the gym most days. I can sympathise especially with girls how hard it must be for them when they have a lot more beauty standards to live up to. I'm not particularly bothered as my theory is I can be a miserable ugly person for a year or a happy one and knowing ill be back to myself with a couple big scars that I can say I got in a bar fight. However it does test me on the best of days and occasional I get anxious like any other person with massive pussy crap on their face.

And the cost, the next appointment cost £179 i had the bloods on the nhs this time and then I had another 2 months of accutane and antibiotics for ..... £429. Yikes. Clindamicyin is expensive. I had 2 week's of antibiotics dispensed and got pissed about by the gp who ill be writing a complaint about for being blind as he tried to put me on low dose doxycliyclin for a clear abscess infection and even when showed a recent blood test and a letter form a consultant wouldn't prescribe me them. So I had to get the rest privately. To be honest I think its criminal that I haven't been pus been pushed through to a derm on the nhs quicker. Teenage girls with "mental health" issues over a few spots seem to get seen in 2 months yet I get a 6 month wait when I am yet to see someone with it as bad as me ? My Nhs appointment is on the 11th of January just before my exams.

Current total: £1537.....

Back to my cysts... My pillow has a sizeable amount of blood on it most nights as these large scabs just love to crack and move. One came off last night and I'm not sure it it looks better or worse. without a do here is my beautiful face.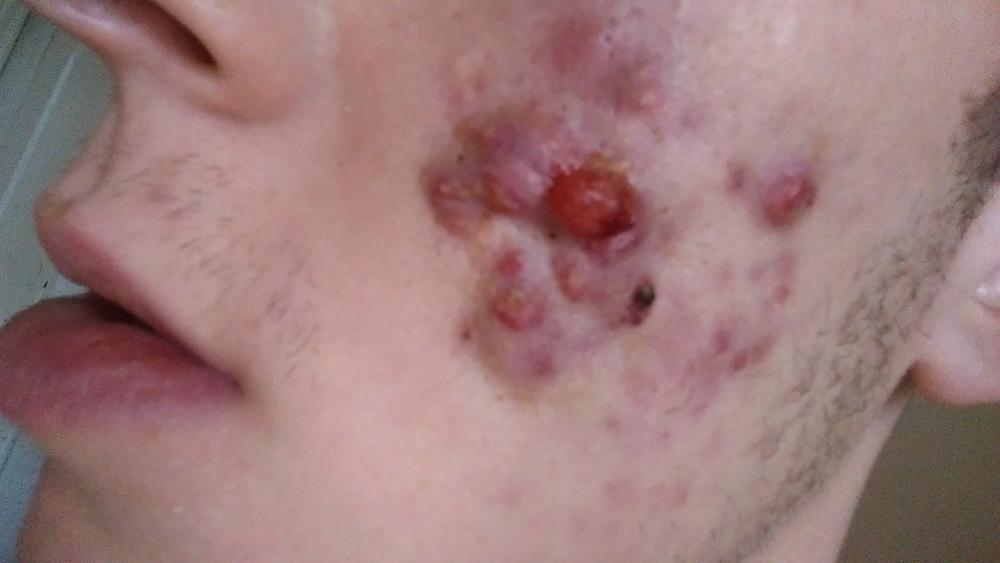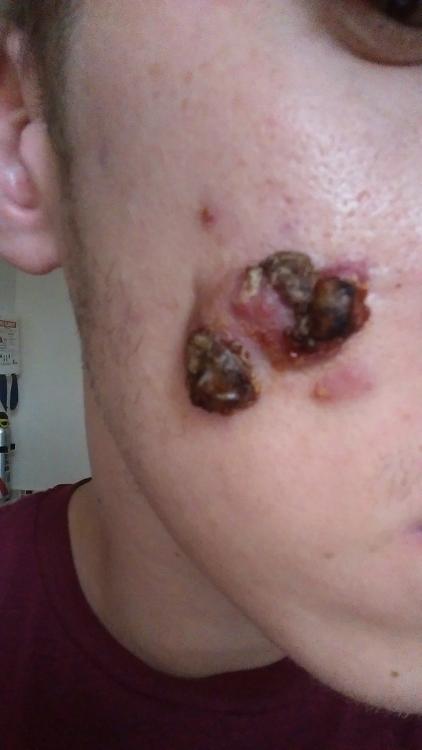 Apart from this there is no other acne of my body whatsoever. However its a small constellation. I sometimes look at people with pizza faces and am jealous because at least their acne isn't going to scarm like mine but hey.... Ps sorry for not shaving I look like a teenage boy with that shit!