month 4.5 (let the scarring pics begin)
---
I returned from holiday to have my condition get progressively worse for the next 3 weeks. I had multiple gp visits where I was essentially freaking out. 

My triple cyst had full on ruptured and burst and I could feel it painful and pulsating as if it had a life of its own. It was over an inch wide and 2/3 inch tall and puffy. Now this is where I lost confidence in the Nhs in treatment of non life threatening issues. 

The story;
After my 3rd gp visit I was in despair, they had given me a referral to have the cyst drained as I concluded a battle scar is better than a crater from collagen depletion and scars are easier to treat than fat atrophy.  However after forgetting to send the referral and a 4 week wait i asked again and they apologised and maid an appointment however it was going to be a 3 month wait. WHAT. And what was given to treat me? More low dose lymecycline which is not going to clear a large infection. The nurse and gps I saw  stated that the nhs is currently broken and told me to go private if I wanted a face that was going to be reasonably scar free.
However I had no money at the time from coming back from holiday and being a broke student. They said I should turn up at the hospital and ask to be seen as an emergency, so that is what i did. The surgeon I saw was only a few years older than me and was lovely and did it just as she was finishing work in her own time. (NHS doctors are a credit to the medical profession)  She gave me a large dose of antibiotics of 1.6g of penicillin a day. For 9 days and then a further 14 days of amoxicillin after a gp visit. This is the peak of my acne in terms of intensity. My forehead remains clear. My acne is mainly on the centres of my cheeks.

On the bright side my acne on my forehead is totally gone and only red marks remain, a small victory. However i am concerned with the level of antibiotic use; 4 and a half months on antibiotics coupled with one month prior for my glandular fever means that I've had 5.5 months within the past year. This is above the recommended time and accutane should have been offered. I have a dermatology appointment for January 26 weeks away. With the max waiting time being 18 weeks. (another failure of the overloaded nhs) So an inadequacy in treatment, failure to meet maximum deadlines, incompetence in communication between staff.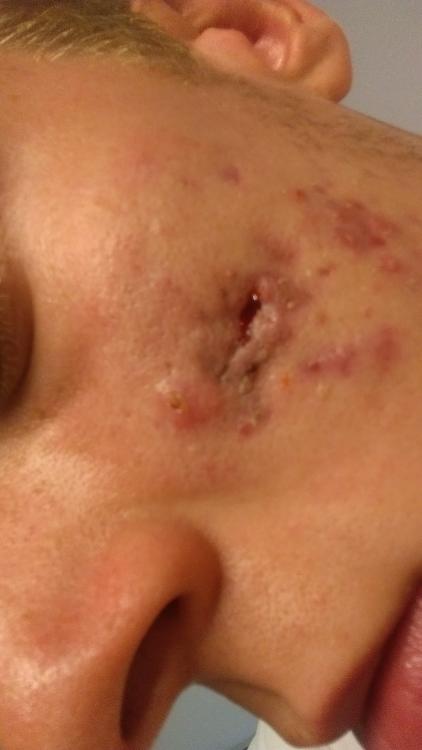 A day after the the drainage.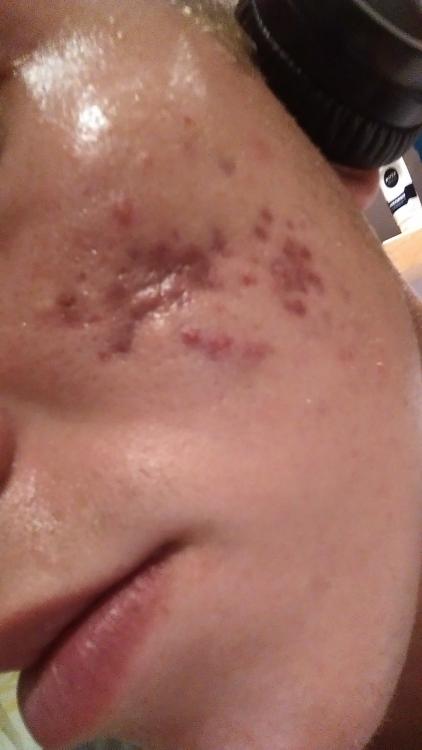 healed nicely. Lots of fat atrophy. Imagine if i had waited the time they stated. I would have had significantly more scaring.