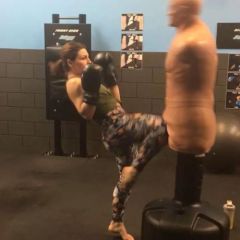 After SO much debating whether the cost would be worth it to try I finally took the dive and purchased the Regimen in early July. I have been dealing with painful cystic acne on both my cheeks (though my left cheek was remarkably worse) and my chin. Occasionally my forehead would join the party and sprout a couple angry red bumps throughout the month, too.
My acne began 8 years ago after the birth of my daughter. I was lucky as a teenager to have great skin, the occasional pimple, and I didn't scar. After her birth it all went to Hell and I began seeing dark red pock marks left over after every pimple. My acne is also influenced by my hormones in my monthly cycles- I had detailed blood work done only to reveal that all my hormones are within very normal ranges and so the dermatologist could only recommend those strong medications that destroy your insides. Since my husband and I are trying for baby #2, those medications are out of the question. So I thought I had to live with it- no face wash routine worked for me. Many made it worse. So many days my face was in so much PAIN due to the cystic nodules under my skin that it would hurt to even lay on a pillow.
Long story short, I purchased the Regimen after reading some great reviews and seeing even better progress photos posted on the site. I waited with so much anticipation until it arrived!

The first thing that threw me was how little time you need to spend actually washing your face with the cleanser. It seems so foreign to BARELY touch your face for only 10 seconds and expect anything to work but hey, I was following the instructions!
I'm not a patient person usually, and its very hard for me to wait to see results with anything that I have been anticipating for awhile and this regimen is no different. Waiting for my face to dry, waiting for the treatment to dry, waiting for the lotion to absorb- its all so painfully SLOW! But I am doing it, and by the time I was a week in I was really noticing a difference already in the severity of my breakouts. My normal breakout that comes like clockwork every month did not come! Instead I got maybe 3 or 4 pimples that quickly abated, as promised in the 'what to expect' outline.

One thing I was disappointed to see, though, was areas of my face that don't normally breakout doing just that. I know that it was in response to my skin adjusting and they also quickly went, but it can be hard to see the big picture sometimes.
At this point I am about 6 weeks into the regimen and my progress has been steady. I still have red marks on my cheeks, though not nearly as much any more, and I do still feel the odd cyst try to pop up under my skin a few times a week, but they never make it to the surface and often are taken care of overnight by the Treatment.

Currently I am not using the treatment in the morning due to a lot of burning but plan to begin doing so when my next shipment arrives (Any day now!)

The photos I have attached are from my very first evening using the Regimen. I take a new photo every week to see my own progress and can't wait to one day soon attach a photo of my skin completely clear!