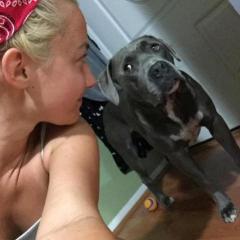 Good morning, happy Saturday. So I quit my job at protein for pets--- working three jobs is too much for me. On the weekends I need "me" time. Aka time by the pool, soaking up the sunshine, reading books, and enjoying my time off with my animals. I was only making $400 a month doing that so at this point, I'm thinking I need to go in for a raise at my main job--- while still trying to pursue the USPS Governmenet job or the farm whatever comes first.

i need to slow down because I think my skin has been breaking out this week because I'm constantly high strung and stressed out I need to relax and enjoy the roses.

this morning I oil pulled, I'm drinking my mason jar and I took 3 probiotics, 1 digestive enzyme, 5x of wild oil of oregano in a capsule and a teaspoon of colloidal silver. In 3 hours I will repeat the oregano and silver.

for now I'm gonna cook up some mushrooms salmon and spinach as my breakfast and go soak up some sun by the pool and read my book.

staying positive xo

fast forward its 12:45pm --- this morning I ate a banana/half an avocado with a good dash of cacao powder for breakfast with like 2 tbsp of hemp seeds. Just now I took my digestive enzyme, another teaspoon of colloidal silver, and a capsule of oregano with about 5x in it.

I'm going to eat some salmon with mushrooms and spinach now before I run errands with my dad. We need to go to the nursery and get another aloe plant, and another blueberry bush. We need to go to a few stores like Leslie's for pool stuff, and i gotta cash a check at Chase. I had a snack of some dill pickles omg so good, bubbies brand of course.

at 4:15 I took another capsule of oregano oil, 5 drops and a teaspoon of colloidal silver, and a digestive enzyme. Now I'm eating a bowl of kefir , blueberries and some cinnamon.


I haven't dranken any herbal tea today and I won't tomorrow either. finished reading the four agreements today. I quit my second job. I need to prioritize sleep above everything. I go to sleep too late and wake up too early. I am considering taking a break off my herbal supplements. I think starting tonight I will not be taking them. I'll still take spiru-blue, krill oil, magnesium, calcium and evening primrose oil but tomorrow I'm going to skip all the herbal organic india herbal supplements I have. My stress is destroying my health because of my auto immune diseases. It feels so good to be home, laying in bed at 7pm, enjoying my night, enjoying my house and my animals. Tonight after I wash my face, I will tone 50/50 with ACV, and probably use a mixture argan oil, rosehip seed oil, tamanu oil, and some oil of oregano. Then use ALOE for the moisturizer with my oil.
Have a wonderful night y'all. <3

dude it's 8:30pm just did all my face crap holy fucking hell. Stress no sleep and taking oil of oregano internally with colloidal silver, my skin is purging like crazy. These pictures make me sad. I'll post them anyway I'm just like I'm so ready for my skin to be "normal" and I know I've got to harness my stress and sleep and it will all be okay. I mixed some of my fresh aloe with Argan, tamanu and rosehip oil then put it on and then put oil of oregano straight on my problem areas (my mouth what's new) and they are already coming to a head and purging out.