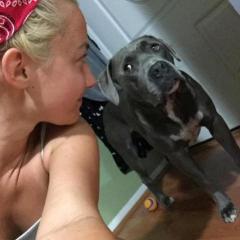 Good morning yall
im home today. My mouth is sore, by my top left molar. So weird. I need to rest up from work today and I was going to make my cold cream! Update I didn't make the cold cream.. I have everything but the aloe Vera juice. Whatever I ordered it on amazon should be here next week. Tonight I'm skipping a face mask. Which I haven't done in ages. I'm lazy, it's already 7:30 and I just wanna rest. I gotta do a few more things but we'll see the destruction haha tomorrow!

Im thinking about doing a low carb day and taking oil of oregano internally (4 drops) 4x today just for today. My body needs a boost. I'll also be taking colloidal silver orally, under my tongue, 4x today.

https://youtu.be/YHcZYkZrmGs

woke up to this...
Worry
Look at the ravens. They don't plant or harvest or store food in barns, for God feeds them. And you are far more valuable to him than any birds! (NLT) ( Luke 12:24 )

Stock markets crash, jobs are lost, and homes are turned over. Each of these events can be devastating and alter the course of our lives. But if our identity is wrapped up in each of them, we can lose our faith in God. Don't let these earthly events cause you to worry or doubt your Heavenly Father. Your identity rests as a child of God. Remember the raven, who is far less cherished, but to whom God is still faithful.
Download this app to get your daily devotions: http://jctrois.com
http://www.jctrois.com/dailybibledevotion/devotion.html?devo=0ZsQ82gff4


its almost 9am. I want to oil pull, shower and do my normal morning routine but I'll probably fast and eat low carb today.

have a wonderful Wednesday y'all!


ALSO I was lazy and didn't charge my phone when I was sleeping so the 3 hours I was outside this morning reading the four agreements book I didn't clock my steps so it must have been like 2 miles if not more!