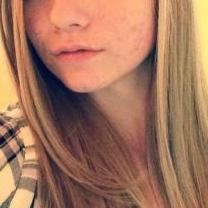 The past few days have been really great days.
I think my skin is finally calming down. I've learned to notice the signs of an oncoming breakout so I can stop use of whatever caused it. I've also learned to distinguish the difference between breakouts and purging. I've learned about my skin's needs, how to pick the right products for my skin, and overall I've learned how to make my skin happy.
This week has been the first that my skin hasn't had any new pimples pop up. I of course still have a lot of scarring and hyperpigmentation, but no new pimples have come to add to my problem. My pores are noticeably shrinking. My forehead is practically clear. I'm quite happy with my progress. I'm wondering if it's because of the fact I've cut dairy for almost 2 weeks now (it probably is). I've also begun to use more natural and gentle products that I know my face will not react poorly to and I've improved my day-to-day lifestyle to cater to my skin.
I've been looking to switch out my moisturizer, as my current one has a lot of chemicals and a strong fragrance that I don't want on my face. I ordered some raw unrefined shea butter in hopes that I could make my own face lotion, one that moisturizes but doesn't irritate. However I learned that for an optimal face lotion I should also have a base oil to whip it with. I wanted argan oil, as I'd heard pretty great things about it. However I didn't have the means to order some from online, which is what I would've had to do if I wanted some mediocre argan oil. So, that made me sad. But upon taking a trip into my local meijer today, I discovered that they carry it! It isn't the best brand of course but I've done every test I could think of to make sure it was actually argan oil. It's light yellow (almost clear) in color, and has a very earthy, nutty smell, which I've learned is what you want. It was at a reasonable price for argan oil, not dirt cheap (which I didn't expect) but not hundreds of dollars. My shea butter comes in on Monday. I'm looking forward to making my own face lotion!
I'll keep you guys updated, but I'm hoping this uphill climb continues to move uphill.
-Amy