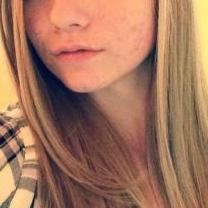 Alrighty, so I think I owe an explanation as to why I've been gone without an update for so long.
Not long after my last update, I had a huge breakout and couldn't bring myself to hold a camera up close to all of my imperfections and post them online. I didn't want to take any more pictures until I cleared up, but then I got swept into.. well, life. I've been pretty busy. That being said, I do have a lot to say in this blog entry.
After my skin freaked out on me, I immediately stopped all of my regimen's products. I truly had no idea which was causing this breakout, so I decided to go with just water for a few days and then quickly decide on a new regimen. I realized I needed to be very careful with what I'm putting on my skin, and I took a look at my previous regimen's ingredients to get an idea of what not to include. I realized that many of the products I was using had drying alcohols, fragrances, and other harsh ingredients. I went out and looked for a regimen that was a little more on the natural, gentler side. My skin has never been sensitive, but I decided to treat it like sensitive skin to get the best out of my regimen.
Now I don't actually remember what that new regimen consisted of, because that one made me break out too. I know it had a charcoal soap of some kind, and a moisturizer which I'm pretty sure was the real culprit behind the cystic acne that popped up a day after using it. I was also using my acv toner which I'm quite sure did nothing for my skin. So, once again, all of those products were thrown to the side.
It was around here that my mother scored a free consultation with an esthetician. I was really happy to be seeing a professional, so I gladly went along. However, the consultation didn't go too well. She came in, barely looked at my skin, then threw out a few painfully expensive options, and got us out of the office. We were in there for probably 10 minutes, and the fact that she barely looked at my skin did not make me feel comfortable. My mother and I decided that we wouldn't go back there.
After that, I told her that maybe we could try a different dermatologist, as there are 2 in our area and the first that I went to didn't do much for me. I was really quite desperate at this point and just wanted a professional to tell me that my acne and my scars were all fixable and that it would be okay. My mother called the other dermatologist office in our area and found out that we couldn't get an appointment booked until October because I am a new patient there. That was pretty disappointing, but we scheduled it anyways. I'm hoping I can get my skin under control by then though.
Throughout all of this, I still needed to settle on a regimen I was comfortable with. My mom and dad had a big bottle of Cetaphil Daily Cleanser sitting in their shower, and while it does have fragrance and quite a lot of alcohols and other chemicals I can't really pronounce, I tried it and it actually seemed to work quite well. It was gentle and didn't sting, and didn't have an overwhelming smell to it. I continued with that, all the while discontinuing my acv toner and adding a baby skin moisturizer, which has no fragrance or alcohols and a lot of great vitamins in it. Instead of my acv toner I added a sea salt water toner, which is just water, sea salt, and the tiniest amount of acv all boiled together and cooled. I have continued this to this day and I have to say that my skin has been looking better. Obviously nothing is going to cure it overnight, but my skin has been on a slow but sure climb upward. I haven't had any huge breakouts or cystic pimples pop up, just very tiny whiteheads that come to a peak and disappear within a day. I'm quite thankful. Of course, I still have plenty of scars and hyperpigmentation, but I'm happy that it isn't accompanied with big bumps everywhere.
I will say that I recently made some changes to my lifestyle, too. I decided to jump on the bandwagon and see how a no-dairy diet fairs for my acne. I'm going to see how that affects my skin for 2-3 weeks, and if I like what I see, then it looks like there'll be little to no ice cream in my future. Bummer. But a small sacrifice for clear skin.
I've also been eating a lot healthier, including more fruits and veggies in my diet, drinking PLENTY of water (seriously so much water I pee every 30 minutes), and discontinuing the use of my multivitamin. So far, I've seen no bad things come out of these changes, and I must say that I'm a lot happier and calm recently too.
I'm looking into changing my moisturizer, since the one I currently have doesn't absorb very well and does have a few ingredients that could potentially clog pores, which I really don't want. I was thinking about getting some argan oil, which rates as a 0 on the comedogenic scale (won't clog pores) and absorbs quickly. I know it seems like using an oil on oily skin is a little counter-productive, but I've learned that oil moisturizes very well and can actually trick skin into recognizing the applied oil as sebum, which will halt or slow excess oil production. Certain oils also have other added skin benefits. Argan oil can also be used as a carrier oil for essential oils, which, when selected carefully, can have major benefits to acne and acne scars. There are other oils to choose from, but argan oil is relatively cheap and good for your skin, as well as your hair!


So there you have it, here I am, I'm fine, we're on an uphill climb. I've come to realize that acne does not define me and while I do get down about it sometimes, I am still me and I am still beautiful regardless of how many pimples and