First Dermaroller and Dermapen Experience
As I mentioned in my previous post, I was in my first year in college when my acne started clearing up and I saw how bad my scars are. I was 17 at the time.
Going to college was something I was very excited about but I felt really conscious going in, which is why I decided to have my first dermaroller treatment. Unfortunately, I don't have pictures to show, as I didn't document my scars before, and come on, my phone at the time, I think was a Motorola Razr, and with the phone's camera quality at the time, my skin would have looked perfect, even up close!
Anyway, so I had one treatment but didn't push for a second because of the downtime. I was really red afterwards for about 3 to 4 days. So that was that.
Fast forward to now, I am already in my late 20s, and I made myself a promise to get my scars treated. I went to a skin clinic last April 10 to consult with a dermatologist, and right then and there, I had my first dermapen treatment.
The dermapen has the same concept as the dermaroller except that the dermapen is automated and the needles go in and out of the skin (like the dermastamp), as opposed to the dermaroller, which is literally a roller, which has needles in it.
So EMLA cream was applied on my face and left for an hour. After an hour, the dermatologist wiped down my face and proceeded with the treatment. The treatment only took about 20-30 minutes. She put serum on my right cheek, treated the area and then applied the serum again. She did the same on my left cheek, which was followed by my forehead, chin and nose.
The procedure was bloody but wasn't painful at all.
These are my photos:
Right cheek (Left photo before the procedure, right photo 5 days after the procedure)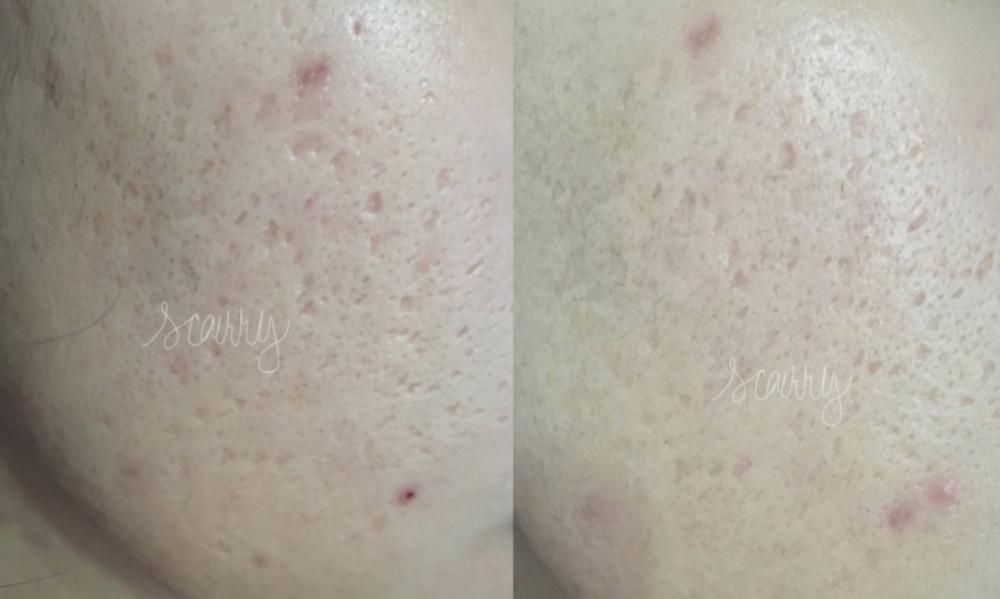 You can see that the procedure helped my pores a little bit, though it didn't do much for the scars, which is expected given that this was only my first dermapen treatment.
Left cheek (Left photo before the procedure, right photo 5 days after the procedure)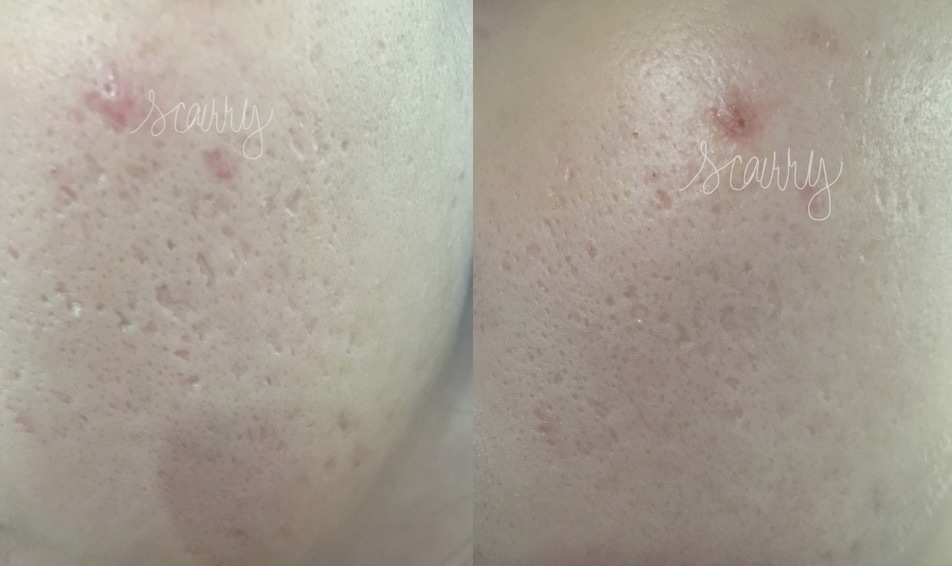 In the right photo, my left cheek shows a significant improvement, but I would be honest and say that it's probably just because of the lighting. The scars are still there.

As you can see, I have tons of ice pick and boxcar scars. I also have rolling scars near my jaw, though the photos don't really show them. The first dermapen treatment did not do much, as expected. With these kinds of scars, I would have to go through several sessions and undergo various kinds of treatments.
However, I can say that my skin, overall, did look good a few days after the treatment. My pores improved a bit, the breakouts were gone and because there's micropeeling, my blemishes also lightened.