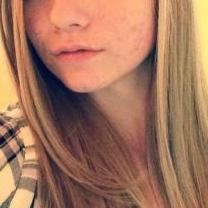 Update 2!
It's only day 2, but so far I've stayed completely consistent with my regimen, which is great. I'm taking pictures of both cheeks and my forehead daily to really see the results of products I use. Since it's only day 2, I don't really see a huge change in my skin, other than it maybe looks a little bit worse and/or irritated. I sort of expected this, as it is a newer regimen. My skin's worsened state really isn't that bad, and it isn't like "allergic reaction" irritated, more like "I'm not used to this" irritated. I'm hoping this goes down after a little while. I think I'm just beginning to purge a little bit. Either way, I'm staying true to the promise I made to myself and giving this regimen a fair 1 or 2 month go before I decide to discontinue or not.
Also, it was exfoliating day, and my exfoliator is a sugar scrub, which is a little bit on the harsh side and does leave my skin looking pretty angry, but that goes down within a day, and really needs to be done to scrub away dead skin cells and extra oil/dirt buildup. So this irritation could also be from that.
So, that's the verdict for today. Almost no change in skin other than some slight irritation. We'll see how it's doing tomorrow!
I would also like to say that I became more aware of the amount of water I consume in a day and decided to pay more attention to that. Before, I was drinking about 2, maybe 3 smaller glasses a day, when in reality a person of my age/weight/sex should be getting 5-9 glasses a day, depending on cup size. Water helps flush toxins out of your system and while increased water amount alone probably can't clear your skin up, it can aid the process. Plus, it's good for other body functions too.
Alrighty, I'm about to pass out. Long day. I'll see you in the next update, and check out my picture gallery if you'd like to glance at my skin's pictures. They aren't great, so don't expect too much. J
-Amy