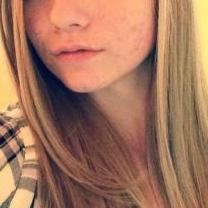 Hello everyone!
My name is Amelia, but I usually refer to myself as Amy. I'm 16 years old. I'm making this blog to tell my story and share/keep track of my skin's progress. The reason I'm making this is really more for me, so I can see my skin's progress and stay motivated to stick to a regimen and get clear of acne. However, it isn't just for me, because I want someone to see this and see that it is possible to get clear if you're determined enough. I'll be posting pictures along with my blogs, and even if there isn't a daily post, I'll be posting daily pictures, because pictures can really help you see progress.
Firstly, I want to tell you about my skin and its history.
So, I'm 16 right now, and my acne began when I was 12. I had always had clear skin prior to turning 12, and I must admit that since I was completely clear, I didn't see any reason to be washing my face and taking care of it. Then one week, my clear skin disappeared. First it was 1 pimple on my forehead, then 2 more on my chin, then 4 on my cheek, then all of the sudden they were covering my face. It seemed like every single pore on my face was clogged and swollen. Back then, it started as cystic acne. The pimples I had were deep, red, hard, painful, and long-lasting. They were very hard to get rid of. My entire face was covered and bright red because of it. And honestly, I didn't really care. My mom was the one freaking out about it. She bought me an array of cleansers, toners, scrubs, moisturizers, spot gels, serums, masks, etc… and on top of all of that, she HAD to pop every new zit she saw. Because of everything I was putting on my face and into my pores, and the amount of pinching and squeezing and popping my mom did, my acne DID begin to die down, but I was left with a lot of scarring.
Somewhere in between all of this scrubbing and popping, I got very self-conscious about the way my face looked. I began to obsess over finding new miracle cleansers and home DIYs that could fix your acne within days, and of course, this did nothing, and probably irritated my face even more. I found sites that educated me about how to properly care for your face and your acne, and I stopped using so many products. I switched to a gentler cleanser, a simple toner, and a non-medicated moisturizer. This really helped it and was a breath of fresh air after all of the harsh products I was using. This calmed my acne, but didn't completely clear me up and didn't do anything to help my scars. I also didn't let my mom anywhere near my face anymore out of fear that she would worsen the problem again.
So, my acne got better, and was no longer cystic. But it was definitely still there. At this point in the story, I'm probably around 14-15. This is where my mom decided to take me to a dermatologist, which I wholeheartedly agreed to, thinking that the dermatologist could probably cure my acne right away. I went, and the dermatologist came in, took some pictures of my face for progress reference, and sat down to talk with me for a little bit. We went over my skin's history and talked about some treatment options. I told her I did not want birth control or Accutane, which I still do not think are good ways to heal acne and don't think I will ever go with those options. She agreed that we wouldn't start out with those, and instead gave me pills to take twice a day (doxycycline hyclate 100mg), and two topical gels, one for morning and one for night (I'm not sure, but I think it was epiduo and duac). She also recommended I use Cetaphil facewashes and moisturizers. I was so excited to try these out, but quickly became disheartened. A week or two into using the two gels, and my face was burning. My skin was dry, cracked, and peeling, and my acne was out of control. I immediately stopped use for a few days to allow my skin to calm down, which it did. The cetaphil moisturizer I had dried me out even more, so I got a St. Ives moisturizer, which helped. I continued to use the pill, but I honestly didn't think it did anything. After a week or so, I hesitantly started to use the gels again, very slowly, only doing it every other day. My skin became very dry and sensitive again, but it was more manageable. I used those for a solid 2-3 months, and I honestly do think they helped some, but I still wasn't completely clear.
I haven't been back to the dermatologist since, and I'm not exactly sure I want to go back and pay a large amount of money for creams and pills that only MIGHT work. To be honest, it's all one big guessing game on whether or not a certain topical will work on someone's face, and I truly believe that with time and much less money, I can find a much cheaper version to get completely clear.
So, we've caught up to the present. Currently, my acne is moderate to severe, depending on the day. It is MUCH, MUCH better than what it used to be though. It is mainly on my cheeks, but is also present on my forehead. My nose, chin, and cupid's bow are clear most of the time, give or take a small pimple here and there. There is a LOT of scarring and hyperpigmentation all over my face, but again, mainly on my cheeks. My face is combination, sometimes oily, sometimes dry (more often oily), and I have pretty large pores.
My current regimen: I use Neutrogena Acne-Prone Transparent Facial Bar as my cleanser, apple cider vinegar diluted with water as a toner, and Pond's Clarant B3 Dark Spot Correcting Cream as a moisturizer. I do this in the morning and at night. During the day, if my face gets oily, I use milk of magnesia to keep it under control. In the shower, I just let water run over my face, as I don't want to over-wash and irritate my skin too much. Once a week, I exfoliate gently with a honey/lemon/sugar scrub. I do not wear makeup regularly. I also take a women's multivitamin because I don't think I get the amount of vitamins I should each day, and vitamin deficiency could be my cause of acne. I do think it's worth mentioning that I just changed my regimen only a week or so ago, because my previous one began to break me out, so my cleanser, toner, moisturizer, and multivitamin are all relatively new. I haven't broken out because of these yet.
I am quite the product junkie, and I suffer from a lot of anxiety and depression. I do get periods of time where I hate the way my skin looks and immediately go out to buy and try a variety of new products all in one day, which only ends up irritating my skin more. I learned from that the hard way, and I know that if I really want to get clear skin, it's going to take a lot of patience and consistency on my part. You can't force your skin to get clear overnight, unfortunately. So, while I'm not content with the state of my skin right now, I'm willing to sit and wait for my regimen to do something if it means my skin will be a little clearer.
I do not want to go on birth control, I do not want to go on Accutane, and I don't really want to drop so much cash on Dan's acne.org regimen just yet (it isn't completely ruled out). I also don't really want to change my diet too much. I don't think diet really affects my skin that much. I don't eat too much dairy, and I am trying to eat new things, since I am a picky eater. I'm also trying to be optimistic and lower my stress levels, since I know that stress heavily affects my skin.
My advice for people currently struggling with acne:
Please be patient. Don't waste all of your money on a ton of products and try them all at once and change your regimen daily. Settle on a regimen with a gentle cleanser, toner and moisturizer. Give that regimen a solid month or two before you switch. It's all trial and error. You have to find what's best for YOUR skin, and it does take time to find that. I know it's frustrating, and I know it takes so long. But if you're patient and strong throughout this process, it will all be worth it when you have a glowing, clear complexion.

I'll see you in my next update! Look out for my pictures coming daily. Stay strong and know you're beautiful and handsome the way you are right now, and you're only going to continue to get more beautiful and handsome as the days go by.
We're in this together!
-Amy