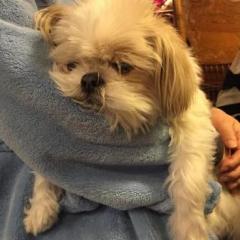 So I have no internet (thanks Comcast) and am also really busy studying ~10 hours a day for this awful exam at the end of this month. Some of the side effects I'm experiencing might be due excessive hunching, stressing, and also the fact that it's *that* time of the month.
I can't say I'm having terrible side effects so far – just some mild but annoying ones
Dry, itchy scalp has been reallybothering me recently. This usually results in dandruff – lots of dandruff – and they don't blend in too well with my dark hair. My hair is less oily so I *could* wash my hair less frequently if it wasn't covered in dandruff within 24 hours =(
Dry lips as expected. I haven't had any crazy peeling or cracking (yet) but I've also been using Aquaphor and Dr. Dan's Cortibalm religiously (this, btw, is amazing!!!)
Tight skin that's not really *dry* yet – no peeling or flaking. Just a little tight, which is usually gone with a bit more moisturizer. It has been super sensitive – it I handle it any harder than mega-gentle, it stings. No IB yet – I have had a few acne come up on my face/chest/back, but they've been relatively mild and disappear within 24-36 hours. I don't know how I feel about not having an IB yet – it's kind of stressful knowing it's coming but not knowing when haha. Not going to complain though.
No GI issues, which I'm surprised about since pretty much everything upsets my stomach. Really freaking thirsty though – it's ridiculous. I'm thirsty even after 3L of water…
Muscle/joint – will report on this after this week because period week makes my back hurt like a mofo. Did notice this morning that my knee felt a little stiff when I squatted down…don't know if that's relevant or not considering it was right after I woke up and I have a history of knee issues.
I'd say the 40mg/day is going pretty well so far so I hope I can be increased to 60mg next month =)