Day Six Post 25% TCA Peel (06.24.16) 9:12 p.m.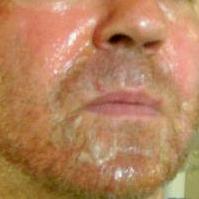 The only areas that have not peeled so far during this week's peel are:

1) my forehead. It's quite red and brown looking.
2) my temples
3) the bridge of my nose

I have been soaking gauze in one cup of cold water and one tablespoon of white vinegar and placing the gauze all over my forehead and cheek areas for about twenty minutes at a time.

Then, I am apply aloe vera all over my face and let it dry. Then, I apply hydrocortisone cream all over my face to help reduce the redness/pink color of my skin.

Before I go to bed, I will apply some coconut oil, let it soak in, and then add a burn ointment all over my face to keep my skin moist to promote continued healing.