Day Six - 25% TCA Peel - (06.24.16)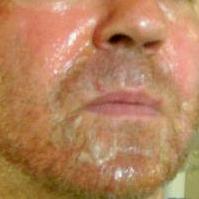 Today is Day Six of my 25% TCA Peel.

The areas of my face that have peel so far include:

1) 95% of my left cheek
2) 80% or more of my right cheek
3) 90% of both jawlines and my chin
4) 70% of my chin and nose

The areas that have not peeled yet are still very brown. The areas that have peeled are now pink or reddish in color.

One mistake that I made during the initial application of this peel was to remove my goggles and to apply a light layer of acid under my eyes. The result was massive swelling under and around both of my eyes. Hopefully, the swelling will subside before I have to return to work in three days.

I applied a hylauronic acid moisturizer on my face to my face this morning and then applied hydrocortisone cream to help reduce the swelling redness of my face. Also, I applied 50 SPF sunscreen all over my face and neck.

Throughout the day today, I will be applying cold compresses on my face to help reduce and residual swelling and redness.

In terms of results, the best is yet to come as the collagen and elastic fibers begin to generate as a result of the peel.

In the photos below, the dark areas on my face are the areas that have not peeled yet.