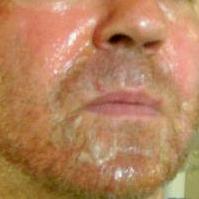 Today is the fifth day of my 25% TCA at home peel.

Right now, I think that I look my worst. I have a very tight shell of brownish/red skin covering the outer layer of my face and I have swelling around my eyes.

Based upon the tightness of my face right now, I would imagine that I am going to continue to peel heavily for the next 48 hours. I have already had small sheets of skin come off, but I expect even larger sheets of dead skin to peel off like a snake over the next two days.

I am keeping my face lathered in burn ointment. Last night, I put hydrocortisone cream around my eyes to help with the swelling and used ice packs, too. I've never had this type of swelling around my eyes before, so I am really glad that I am at home and able to heal in the privacy of my own home.

I am going stir crazy and I can't wait for this healing process to end, though. I'm ready to be able to go outdoors again and stop being a hermit.

I keep reminding myself about how good my skin looks a week after the peeling has subsided, so that keeps my mind in a good place.