Day III - 25% TCA Peel (06.21.16) Photos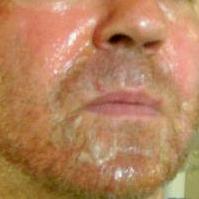 My face is becoming progressively tighter and tighter as the day goes on which is a very good sign.

As you can see below, my face has turned reddish/brown and it feels as if I am wearing a tight mask or have cellophane tape all over my face.

Tomorrow should be the beginning of a two or three days of intense peeling.