Day Three (06/21/2016) 7:31 A.M.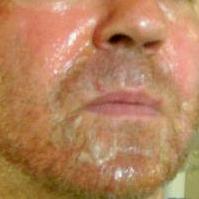 When I woke up this morning, I was a bit surprised when I looked in the mirror.

Both of my eyes have swollen and my right eye looks a bit droopy today due to all of the swelling. I wore goggles when I applied the acid, but later removed them to apply a thin coat of acid under eyes and on the sides. I didn't dare try to do my eyelids - too risky.

My face is pretty swollen, too, and it appears that I am wearing a brown mask on my face.

I suspect that peeling will begin either late this evening or sometime tomorrow as the cycle is pretty predictable based upon past peels.

More photos to follow later.