Day Two (06.20.16) 5:35 P.M.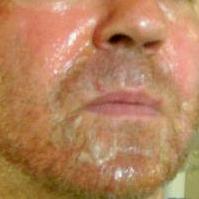 It's evening time and I can feel the skin on my face beginning to tighten.

I've lathered my face in burn ointment to help with the healing process. Our youngest son just told me that my face looks like an 'onion' and he can see visible signs of my face tightening because it's beginning to 'crinkle'.

I'll take his comments as proof positive that the process is working.



Looking forward to seeing what my face looks like tomorrow.