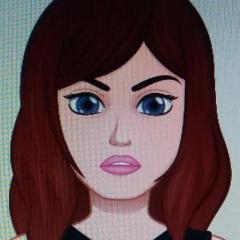 I had a little squeeze today even though I know I shouldn't have. I could not bear the lump on my chin any longer. It feels better now and I know I am really risking it (scarring) according to a lot I have read online but I just can't leave it. I did notice that when I do have a squeeze there is still loads of oil coming out of my skin, which I am not happy about, and it did put a downer on me. Surly that should have significantly dried out by now?

I coloured my hair which I do red and have done three times on Roaccutane and had no problems with. I use an ammonia free colour so it's gentle. I really wouldn't recommend anyone paint a peroxide on their scalp during treatment, that could be nasty. What I noticed is my hair is coming out quite a lot. I have had it before due to low Ferritin (iron stores) levels and my Ferritin is low now and I am on iron supplements from my GP for it. I think a mix of the tablets and the low Ferritin are causing the loss, not one or the other. I will say though if I hadn't seen this before with myself I would be panicking and shocked as it does look like loads when I wash my hair. Luckily my hair is thick.
My hair is very dry so I am caking it in Argan oil before I dry it and it feels amazing after it is dry. Normally any more that three drops of the oil and my hair would be so greasy I would have to re-wash it but now it takes around 10 drops spread through my hair for it to look normal and not dry!

My lips are still dry of course and I have noticed where it has split badly twice in different places, I do have scars there now. I'm just keeping insanely applying lip balm and moisturisers like a woman possessed!