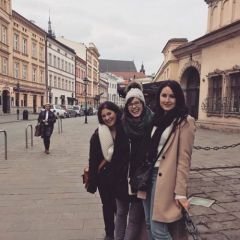 Hello hello hello!
I just started my 3rd month of accutane about a week and a half ago now. Now, I will say I have had a couple breakouts here and there... but I think it's my fault not the medicines. I went on a trip and wasn't as consistent about taking it and may have drank a bit more than I usually do (whoops). Other than that, my skin looks fantastic! It is a bit red from being so dry, but I think it's kinda a nice change from my usual overly white skin and is nothing I can't fix with some tinted moisturizer.
At my last appointment, they told me I won't need to get my blood drawn next time because my liver isn't showing any signs of being affected from the medication, so yay! This could be due to my lifestyle, genetics, or just the fact that my doc picked a good level of mg and won't be changing my dose any time soon. She said usually when people start on a certain dose and then change to a lower or higher dose, they tend to have more issues/breakouts/etc. So that's something to keep in mind if you plan on using accutane.
As for the sun, I have been pretty good so far about using sunscreen. I have a long commute and put it on before I drive both ways... I know that sounds silly, but I did notice one day when I hadn't, that my skin looked a little burned. Especially on this drug, even slight sun damage can really harm your skin, and my mom had skin cancer... so I will stick with my current habits.
My skin routine has stayed the same as in my previous posts. I think it's working rather well... so far a little dry and flaky, but not near as horrible as I thought it would be. Had a little bit of eczema on my arms, but used some cortisone and extra lotion for a few days and that helped.