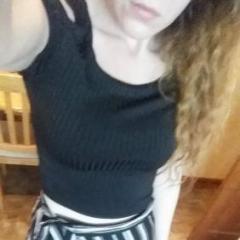 Circles, I'm going round in circles. I said to my mum today that I hate life, I hate my life life (right now anyway).

This year has really been the worst. It started off well with meeting my boyfriend but a snowball effect of bad shit has accumulated. It started with me getting ill in January, I still have a cough from that. Then I hurt my foot in February which put me out the fitness game, still haven't exercised since. My skin started getting shit again. My house got broken into and my bag, passport, money etc got stolen. I saw a dermatologist with high hopes and Isotrex has fucked my skin right up.. anxiety ensued and I've lost 10lbs and hate leaving the house. My exams are next week and actually uni has been the most stressful thing ever this year. My bf really doesn't want to be with me, I can tell, I think he's actually trying to push me away now when before perhaps I subconsciously was pushing him away when ALL I wanted was support, I just wanted a hug and to be told that I'm beautiful and he loves me know matter what, that I'm perfect in his eyes.. but I didn't get that. So I don't believe that.

On top of all that shit I've hurt my neck and upper back. Literally cannot get a break right now.

Why does life hate me right now? What have I done? I'm exhausted. My little head is exhausted and I hate that I feel guilty for anything I eat. I just want to be happy but I don't know how. 4 month ago I was so much happier until all this carp happened.

I'm sorry if you are getting fed up of me going on and on but I haven't anyone who understands the "emotional" side of acne. No one in MY life has this as bad as me. This blog is my only outlet.