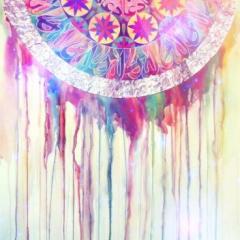 Hey everyone! Basically this post is just going to be an introduction on me and my acne.

I am a teenager and have had acne for 2 years now. It's gotten consistently worse since it started as just a few pimples here and there. Now my forehead is covered in acne and hyper-pigmentation. My forehead is my main problem area but I will occasionally get acne on other areas of my face. Very rarely do I get acne on my jaw/bottom of my cheeks though.

I went to the dermatologist for the first time less than a week ago and got my prescription. She gave me Tretinoin cream to apply at night and Clindamycin gel to apply in the morning, as well as oral antibiotics to take twice a day which I haven't gotten from the pharmacy yet (but I'll inform you once I get them).

My skin is pretty sensitive and dries out easily so I will start by applying the medication every other day and either increase or decrease how frequently I apply it.

I wear makeup every day just to hide my acne, and my goal is to have my skin clear enough that I feel confident enough without it. Along with that, I want to be able to go swimming at the beach/pool without being self conscious of my skin while trying to keep my waterproof concealer on my acne. Acne really does suck (as I'm sure everyone reading this knows).

Anyways, hopefully my future experiences with these medications will help someone else know if they are going to work for them or not. I'll try to document as much as I can.

Thanks for reading!