Avoid 'Mechanical' Exfoliators!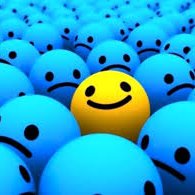 Before I found this site, I was using a facial scrub (Deep Clean Scrub) from Neutrogena that (once I looked closer at the label) turned out to not even be for acne prevention specifically, but more for exfoliation and anti-shine! I am describing a recent problem I have had in regards to this scrub and why I have switched to a very gentle cleanser.
*Keep in mind I had little-to-no knowledge of the proper form of treatment for acne until about a day and a half ago. Apologies regarding any falsities*
From what I know now, the little beads, or other exfoliating pieces, in the scrub were basically scratching up my skin... which was kind of scary, especially because I found out that a good 10 seconds is all it takes to give your face a good cleanse which I had been doing for about a minute - and pretty vigorously... The videos that I've watched here have taught me that *irritation = acne* so you need to be as gentle as possible with your skin.
From this learning experience, I would like to advise all acne sufferers to avoid these products, as they're pretty much doing more harm than good to the skin. If you are having a similar experience with the dryness, redness, and irritation of our skin, DO NOT USE THESE PRODUCTS! The exfoliating beads, or other exfoliating pieces in a facial cleanser are not necessary in the exfoliating process. I recommend a glycolic acid which I have heard good things about in my research. This can be found in a cream form at most drugstores.
In addition, I heard on the news earlier this evening, these scrubbing/exfoliating products, which included the exact face wash I was using, are now outlawed in the U.S. because of the pollution the beads are causing!
I hope this helps anyone who is trying to figure out what is causing, or primarily causing, their acne, and always remember #positivityiskey !

1/7/16