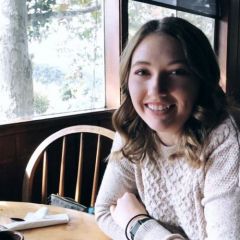 Happy New Year!!! I hope everyone had a fantastic holiday, got everything they wanted for Christmas, drank to their heart's delight on New Year's, and enjoyed a break from me complaining about my acne. Unfortunately, it's time for me to starts complaining again haha.
One of the most ironic things is that the thing I wanted most for Christmas is what is causing me the most of my problems. A while ago I talked about "accutane rash." It is a red/yellowish, raised rash that people experience on their hands, arms, and sometimes legs. I get it mostly on my hands and arms. Sometimes it's just THERE but for the past two weeks, the rash has been there, irritable, and painful. I have two big patches on both sides of both of my hands as well as down the tops and bottoms of my arms. My jacket at work tends to irritate it the most and it does not respond to most lotions. In fact, the lotions are sometimes what makes it worse. Water, as well. If it gets wet at all, the water doesn't bother it but the response to air is what kills it. It isn't itchy per se but it still bothers me a lot. How is this affected by my christmas present? Well, for christmas I got an apple watch and unfortunately the chafing and sweat build up that it allows both underneath the strap and the watch body itself is causing patches of the rash to pop up. I've tried just switching hands and giving the 1st wrist some time to heal and if the other wrist starts getting the rash too, I'll switch back. So, how am I combatting said rash? I'm pretty much NOT. Lots of lotion, 2x a day, mostly when I'm fresh out of the shower because it absorbs better.
Besides that, acne has been... ish. My acne has absolutely improved from the acne that the frickin' medicine caused in the first place but it hasn't done a whole lot from my original acne. I still get white heads from time to time but my face has been nowhere near clear.
Just to recap, because I know a few of you may not have been following me since the beginning, my daily routine to take care of my face is the Neutrogena ultra gentle daily cleanser in the morning when I wake up, followed immediately by Equate Beauty Moisturizing Lotion (literally JUST realized that this is not a Cetaphil product and that might actually explain a lot 0.0) and used as needed throughout the day. At night, I use dove sensitive skin nourishing body wash in the shower, both for my skin and face, followed by the moisturizing lotion before bed. Lips wise, I have tried Chapstick medicated lip balm, Carmex, Ranbaxy, Petroleum Jelly, etc. So far the only thing to really work is the Vaseline/petroleum Jelly sooo yeah. I have not tried Aquaphor because I don't feel like spending $10 on something that might not even work.
Well, acne still sucks, skin is still hecka dry, and I'm still not sure if all of this is worth it. BUT I ONLY HAVE LIKE A MONTH AND A HALF TO GO!!! I get one more month's worth of prescription at my appointment on Monday and then I still have half a month left from when I was still being prescribed 80mg but only taking 40mg. So, blood work on Monday and derm appointment Monday so you guys will have a full update next Thursday.
Until then!