Day 45/ Initial Breakout?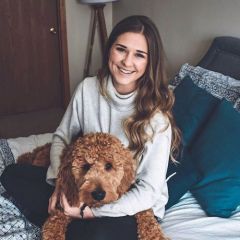 So I have taken a little break from my every 5 day posts. Sorry, Christmas is keeping me busy! So since my last post some side effects that are most notable are that my eyes get dry and water a lot, my eczema is stronger and I had bad rashes on the tops of my hands when I used a scented body oil. Do NOT use scented! My lips are not bothering me if I slather on aquaphor before bed and a few times throughout the day. One big side effect that I have noticed more of is headaches and exhaustion. Im not sure if the headaches are caused by dehydration and the exhaustion is caused by all the holiday bustle, but it is noticeable.
Not sure if all the pimples I have been getting is the initial breakout, but since my last post i've had a pretty steady occurrence of them around my mouth/chin area, as seen in the pictures attached. This is the worst that its been so far during my treatment and I hope it stops soon! I guess these breakouts are in similar quantity as my breakouts before I started accutane. This time they are just more concentrated around my mouth/chin.