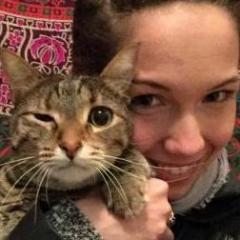 Overall, I don't have too much of a problem with my skin (anymore). I had mild to moderate acne in middle/high school, but a combination of hygiene, birth control pills, and diet have cleared things up pretty well for me.
Occasionally, though, I find myself with a bit of cystic acne. Serious cystic acne. Painful, hard bumps that stay for weeks. Sometimes they drain, sometimes they don't. All of the time they are very, very painful and swollen. The last time I suffered from one of these cysts was about two years ago. It was a particularly nasty bugger on my chin. I visited the doctor and got a kenalog injection, and it was nearly disappeared the next day. I didn't have any scarring or indentation as I've read about.
I was SO thankful for this injection, because I'd wondered about getting one several times, just never had. I hope this blog helps someone decide whether or not a kenalog/cortisone injection might be right for them.
I don't know if I've just been lucky or what, but I haven't had any cystic acne in a while. Until about a week ago, when I woke up with a large, swollen bump on my face. Luckily, I've been able to leave it alone and not over-treat it with drying treatments, so it's been somewhat easy to conceal. It HURTS like nobody's business, though. I can't laugh or smile without being in pain.
I'm currently uninsured, but I decided I'd check to see how much out-of-pocket it would cost me to have this guy injected. The office visit for my regular doctor was $80, and the injection itself was supposed to be $40, but the physician's assistant who helped me out today didn't charge me for the procedure itself.
The injection itself was very painful. The area is very painful, so this didn't surprise me. The entire procedure was over in about 30 seconds.
Attached are some not-so-flattering photos...
The first attached photo is before I went to the appointment. I have just a dusting of powder/concealer on the area.
Second photo is when I got home from the appointment. No makeup, just been injected.
I plan to take photos every few hours to track how much this thing has gone down!