my skin history (insanely long post)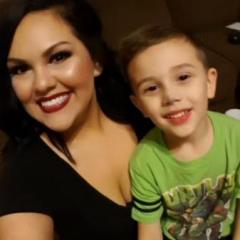 Hello.
I've had acne since about 5th grade. It started with black/whiteheads here and there, mostly around my nose. In 7th grade I started noticing actual pimples, annoying and embarrassing, but still very mild. Freshman through Junior year I actually started recognizing my acne as "acne". I would have 2-3 pimples on my face at all times, mostly cheeks, nose, and those stubborn in-between-the-eye pimples, 3rd eyes as I'd like to call them. During and after my senior year was pretty mild, mostly blackheads on my nose and chin and the big ugly breakouts around my period every month. Now that I think of it... of all my friends, I was always the only one with "bad skin". When I was 19 I got pregnant with my son, Raiden <3 Being pregnant did wonders for my face! Seriously! Clear skin, I had that "GLOW"! Towards the end of my pregnancy things got really bad! I developed a rash called PUPPPs, or, Pruritic Urticarial Papules and Plaques of Pregnancy. This must have changed something in my skin because after I had my son and the rash cleared, I. SCARRED. SO. EASILY. Pimples, scratches, bug bites, didn't matter if I touched my skin or not, I SCARRED bad. This is when I found out what hyperpigmentation was, #UGH! Yes, I had a bad habit of picking at my face. What?! I hated bumps on my face! I needed them to go away! This was of course awful but I didn't care, makeup was my best friend and I knew how to work with it. From ages 20-23, same old skin, probably a bit worse. Anywhere from 10-15 breakouts at all times, big and small, even some planet sized pimples! FUN. Ages 23-24 is when my skin was at it's absolute WORST. I cried all the time, my face hurt, I hated looking at myself, family and friends would do their best to try not to stare but how can you not with a huge pimple STARING RIGHT BACK AT YOU?! You all know how it is but everyone else in the world without acne assumed they knew... "You need to wash your face better", "You're buying the wrong products", "You need to try this cream, it totally worked for my friend", "Maybe it's your makeup? You do wear too much you know", "Do you wash your pillow cases?", "Do you sleep with your makeup on?", "Try eating better and drinking more water", "Exercise!", "Well I use this and I've never broke out before"... <---- I HATE ALL OF THOSE PEOPLE! YOU DON'T KNOW BECAUSE YOU DO NOT HAVE ACNE! 1 pimple a year DOES NOT COUNT, JERKS! It's always the ones without the problem trying to give you advice, unwanted advice! I understand most of you have good intentions but just DON'T!!!!!!!! PLEASE! #rantover. Anyway, the list of products I've used is insane... Ready?
Bar soaps, cleansers, scrubs, serums, gels, creams, peels, masks, ointments, sprays, and lotions from: Neutrogena, Clinique, Cetaphil, Dove, Aveeno, random drugstore brands, Mario Badescu, Peter Thomas Roth, Murad, Dermalogica, Biore, Clean & Clear, Clearasil, Yes To, MAC, ELF, Oxy, St. Ives, Cetaphil, CeraVe, Eucerin, Palmers, Clarins, Vitchy, Nivea, Freeman, more random brands, Stridex!!.... This is just off the top of my head that I can remember right now.
Natural/Organic productsnot including product brands(which I did try ALL of them: jojoba oil, coconut oil, tea tree, apple cider vinegar, coffee grounds, cucumbers, almond oil, rose hip, carrot seed, potato and banana peels, myrrh, aloe, olive oil, bio oil, vitamin E, neem and emu oil... the list goes on and on.
EVERY. VITAMIN. EVER. well... that's what it felt like.
I tried all kinds of crazy internet and Pinterest experiments, remedies recommendedto me...
I did try all the 3-step acne productsout there: Clinique, Proactiv, Yes To, Acne Free, Equate, Clean & Clear, Olay, Murad, Dermalogica, Neutrogena, ect...
Procedures and tools: Microdermabrasion, facials, extractions, face brushes and sponges, off brand Clarisonic, dermabrasion tools and pads.
Prescribed medication: Clindamycin (gel, cream, and lotion), Saliclic acid and Benzoyl Peroxide (Benzac) washes, Doxycycline, Spironolactone, Retin-A, 3 different birth controls, and Mupirocin.
Clearly I've used a ton of products and none have worked. If they did, it was for a short period of time till my skin got used to them (usually 2 or 3 weeks into the product) and I just broke out again.
I made the decision, afters about 3 years of constant research and fear, to get on... wait for iiittttt.... ACCUTANE! Yes! Finally I talked to my dermatologist and we decided Accutane was the way to go!
These days I mostly struggle with hormonal acne. Most people would tell you my face was really pretty and clear but that's because they don't see me without makeup on! NO ONE believes me when I say my skin is horrible till I finally work up the nerve to show them... utter and complete shock! "Mel, I never would have guessed! You can't even tell! I NEVER KNEW!" Thanks guys

BUT I STILL KNOW IT'S THERE!
Ok... I'm ready to start this journey. I'm very embarrassed about my adult acne, now being 25 I feel like it just shouldn't happen but here I am. I'm mostly starting this blog for myself but if anyone is interested in following my story, thank you. I hope we can help each other! Let's do this!