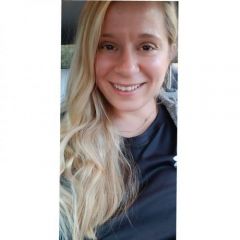 K well my horrid cystic acne first happend when I was going thru a divorce then soon after that my mom died and it just got ten times worse. I think mine started from just being severely stressed out anyways its been over a year and still struggling....ive done everything..spiro,proactive,retin a, minocyclin ect...I'm currently waiting on some nanocleanse and I'll update if it works...I'm just trippin right now bc ive heard of steams, baking soda, tea tree oil, raw honey, lemon and how to do it and at first I broke out then immediately stopped steaming and what not but if youre like me, like constantly on internet googling how to get this crap off your face then maybe this will help..maybe not...I decided this time I'm gonna stick it out thru the burn and flare ups and I'm pretty freaking glad I did. My regimen may sound crazy but hey its working pretty dang good since I stuck it out this time.....
AM- half noxzema antibacterial cleanser and half garnier charcoal cleanser...acv toner...olay oil free moisturizer with dot of aloe vera and theres 2 or 3 drops of tea tree oil n moisturizer...
PM- same thing but mix moisturizer in a dot of retin a sometimes...
Now here's the kicker...I been steaming every few days and before I do it I wash w non exfoliant then steam then apply a raw honey, scoop of baking soda, little lemon to activate that baking soda really good..sometimes maybe an orange...sprinkle cinammon and nutmeg and voila. I let it set for an hour rinse n lightly rub, rinse again, tone..moisturize...
Now don't get me wrong my skin burnt like hell a lot and was red a lot until all of a sudden it wasnt...guess i built up a tolerance i dont know but my face is the best its ever been...I'm scared to f it up again. In fact I don't know what happend so I'm trying to remember all the shit I do, another reason for my blog...
Also guess I should note that I take probiotics and proactives vitamins still and drink raw acv every day...I only started seeing a difference after I stuck it out thru the burn and flare ups of adding baking soda in the mix also adding steaming