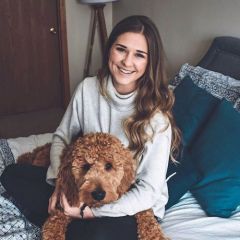 Hello all!
So today I finished my 3rd pack which places me on day 15 of 80mg per day of accutane. I have seen small improvements on my skin. My acne has seemed to slow down and I currently have ZERO noticeable pimples and only a few that are deep down. Hooray! My chin still has clogged pores that seem to want to surface. And I can tell my oil production is slowing down. I was able to not wash my hair for 3 WHOLE FLIPPIN DAYS! This is a miracle compared to it getting greasy before 24 hours. I haven't had bad chapped lips because I use aquaphor frequently and my body isn't too dry but I have noticed my eczema flaring up a bit. Last time I posted I talked about bad back pain, but it is mostly gone and I think it was largely due to sitting for 10+ hours two days in a row doing homework (Yay college).
The only change in routine that I have been doing is taking 2 fish oil capsules with each dose of accutane. So, 4 capsules a day. This is supposed to help with joint health, skin moisture, and actually helps you loose weight (shown in a study with no change in diet or exercise)
I'll update when i'm done with my pack in another 5 days.