Diet for Best Absorption and Skin Update - Day 4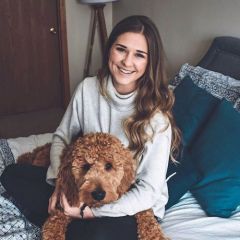 Since I relapsed my first round and want this round to work for good, I have been researching the best way to absorb accutane to the fullest extent, I found some great articles that I feel the need to share! These articles basically say that high fat and high calorie meals absorb accutane 60% better than on an empty stomach. I have decided that I am going to take the healthy approach to fatty meals and stick with coconut oil. Coconut oil is compromised differently than other oils, it is sent directly to your liver to be made into ENERGY instead of being stored as fat for future energy use. Also, coconut oils is said to help with weight loss and have healing properties! Can't beat that! I'll also probably take fish oil capsules with every dose of accutane to increase the fat intake and help with moisturizing my skin and soothe redness.
Today I completed day 4 of my pills, 40mg 2x a day. So far I have seen some side effects but I am not sure if its just my mind playing games haha. I have itchy skin everywhere, yet I use coconut oil or Cetaphil lotion 2x a day. I have noticed my lips have been more dry but they return to their softness with chapstick or aquaphore. I have also been getting headaches, but I am assuming thats because my tetracycline antibiotics are still in my system from last week before I started accutane. These two drugs together can cause headaches. Hopefully those will go away soon enough!
Here are the articles:
http://www.facingacne.com/reasons-roaccutane-work/
http://practicaldermatology.com/2014/01/on-dosage-and-diet-isotretinoin-101/