Past Accutane Experience and Now Starting Again!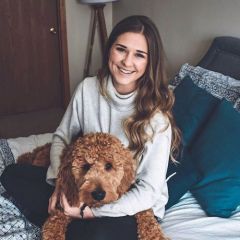 Hello! This is my first ever blog! Im excited to share with you my journey of my second round of accutane. This post will be long because I will share with you my first experience, so be patient



My acne journey started way back in middle school, year 2007. I remember my face was always the oiliest in the classroom and a constant supply of face powder was always needed to "fit in". I was accustomed to going to the dermatologist for my eczema, so we finally started treating my acne when Proactive wasn't helping. I have been prescribed everything imaginable for my acne and nothing ever worked. Medicated toners and washes, antibiotic topical, benzoyl peroxide topical, minocycline oral antibiotics, retin-a, retin-a micro, so on and so on. I have to mention that my minocycline caused me to get bluish black splotches on my shins that looked like bruises that wouldn't go away. I asked my derm about the bruises and it was diagnosed as minocycline induced hyper-pigmentation. This is still visible and will take years to diminish. So be cautious when taking antibiotics and report any increase of 'bruises'! Anyways, my acne, which seemed to flare up during hormonal periods, only calmed down for about a week per month and was causing deep scaring. My mother had been prescribed accutane after she was done having children at the age of 30, so we figured my acne journey would be a long one also if genetics were playing a role in it. My junior year of high school, 2011, was when I was put on my first round of accutane (generic). It was 40 mg 2x a day. I had the usual side effects such as my lips peeling raw almost daily and a few nosebleeds. Surprisingly, I do not remember my skin becoming overly dry or itchy. Other than those side effects I was IN LOVE with my accutane journey. This was the first time that I could go 4 or 5 days without washing my hair. I struggled to reach 24 hours previously, before my hair was too oily to manage. My face was crystal clear from any pimples and I felt more confident than I had ever in my life. As I finished my 5 months on accutane my face remained mostly clear for about a year and then my acne started coming back slowly but surely.

Now I am a junior in college and I have repeated all the topicals imaginable. These had no effect so I decided to try taking birth control to help balance my hormones hoping it would stop my acne from the inside out. I was prescribed Yazmin and I took this for 6 months along with Retin-a Micro and and Clindamycin/benzoyl peroxide topical. After 6 months on Yazmin I had no decrease in acne, it actually got worse! I was hoping after my body's hormones balanced with the hormones from Yazmin that everything would be magical and my skin would be fixed. Unfortunately, after having 6 months of worse acne and not seeing an improvement I decided to come off of the pill. I, after 8 years of battling acne and never seeing improvements felt like the world was against my skin. Nothing seemed to be helping and I was faced with looking into the mirror everyday and see the scars left from 8 years of acne. What was even worse was knowing the pimples that I had currently would just leave more scars behind like a never ending cycle. To be honest, make up was my one security and I even feel vulnerable around my roommates without that shield. Hearing them talk about how they are "breaking out" and seeing one little skin colored bump, made me wonder how they feel about my face. I sobbed to my mom and she felt my pain, since she went through the same thing I am going through. That is when we decided to start thinking about accutane for a second time.

I am now on day 1 of Myorisan (generic accutane) 40 mg 2X daily. I hope that this will be my final fight with acne, but I cant stop but doubt that it will actually work in the long run. I'm giving up a lot these next five months in order to hopefully have peace with my skin. Unfortunately, all of my best friends from home : Jake, Jacque, Becca, Maggie, Mary, Lizzie, and all my best friends from school: Tori, Rachel, Trent, and Matt will be turning 21 during these 5 months. ALL 10 OF MY BEST FRIENDS will turn 21 and I won't be able to drink in celebration on these days with them. Hopefully it will be worth it in the end. When people hear that i'm taking accutane they view it as a negative medication and tell me that no way do I need to take it. But these people see me with my face full of makeup and don't see the real damage and pain that I feel on the inside. I will always tell people that accutane was the best decision that I could have made because it gave me over a year of peace with myself. The morning rituals weren't me seeing what new pimples or scars I now had to deal with, but rather seeing my face and being happy with what I saw. So, I cant wait to start my journey again even if it only gives me another year of peace.

Stay tuned my fellow acne fighters.

Attached are some pictures of my face before I started accutane for the 2nd time while I was on my 6th month of Yazmin. And also attached is a picture of me with my makeup as a different reference point.