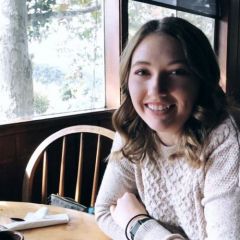 Heyyyyy! It's been another week already and now I'm done with TWO. WHOLE. MONTHS!! Whoop!!! Btw - I'm counting 1 month as 4 weeks and 1 week as 7 days. So 56 days = 8 weeks = 2 months.


Ingrown toenails update: They have improved a whole lot, at least in the pain department, but they're still pretty red. Taking the Cephalexin (500mg 2x a day for 10 days - today is day 8) seemed to majorly help and then another derm (because my derm wasn't available) prescribed me Triamcinolone which is a topical corticosteroid that I am supposed to put on 2x a day. It seems to have helped a whole lot but again they're still kind of red and I'm occasionally pulling off penny-sized pieces of skin. Pictures to come.

Acne update: Acne seems to have cleared a little on my face. Old ones are still there but there doesn't seem to be any new ones coming up. Shoulders, chest, and neck are still breaking out pretty badly and they're taking forever to go away. I ended up at a Clinque stand this past week and the lady working the counter walked up to me and said, "ya know, you put this baking soda mask on your face - it'll fix all that acne." Soooo... if that doesn't tell you how bad my face was, I don't know what will (also - I've tried it). Thanks to one of the people I've reached out to, I now have a new facial routine that seems to work so much better. I'm still using the Neutrogena Ultra Gentle Daily Cleanser in the morning but I've cut out the Cetaphil products completely because I have determined that they are the cause of my facial redness - my face was only turning red after I applied the moisturizers. Now I have added Clinique Clarifying Lotion for Very Dry to Dry Skin. It's a gentle exfoliant that you swipe on with a cotton ball. It drys pretty fast and gets rid of all that peeling skin. I've also added Clinique dramatically different moisturizing lotion+ which has been a great moisturizer as well as Clinique custom repair serum which has been helping to get rid of the redness. I've been using all 3 of these 2x a day - morning and night.

Side effects: My eyes keep switching back and forth between watery and dry and this week they have been extremely watery which I'm not really sure how to handle. People keep asking me if I'm ok, thinking I'm crying. I've been extra achey this week - ankles, shoulders, arms, and lower back. Peeling hasn't been bad AT ALL with the new product use.


Well - I'm done with 2 months and my 2 main concerns are 1) when will my acne start to clear up and 2) what about after this is all over? I've done my research but everyone is different. A lot of people have said they started seeing clear skin anywhere from the end of the 2nd month to the middle of the 3rd. So my fingers are crossed that my skin decides to be nice in the upcoming weeks. For after, I might be getting ahead of myself, but I'm so afraid this won't work for me.... I seem to have experienced the side effects a lot faster than most people but my acne is persisting longer as well. Also, people have said that their derm has just prescribed them topical retinoid after it's all over and doesn't that just really defeat the purpose...? If you went on a 4-5 month acne cleanse with accutane, why do just add a topical cream to the mix after it's all over? Shouldn't the medicine not require that in the end? Yes, I understand that this doesn't work for some people and I assumed that risk but I will CRY if it doesn't... I don't know - those are just my concerns for the week.

So I've been thinking and the one piece of advice that I can really give for people just joining this acne community is REACH OUT. Look up tags on posts or search a hashtag of your medicine on instagram. I guarantee you'll find some answer or at least a hint of what you're looking for. I searched #accutane on instagram in the 2nd week and found someone going through the same process and we're relatively close in # of days. She and I have compared products, side effects, routines, etc. and I've learned from her experiences as much as she's learned from mine! I owe her to saving my peeling face and helping fix the dryness with the Clinique suggestions.

Well, I have my blood work scheduled for Saturday, Oct. 31st and my derm appointment for Tuesday, Nov. 3 so you will have those updates next week! Until then!