10/23/15 Start on Month 4 bc and 1 month spiro

Entry posted by Exning ·
465 views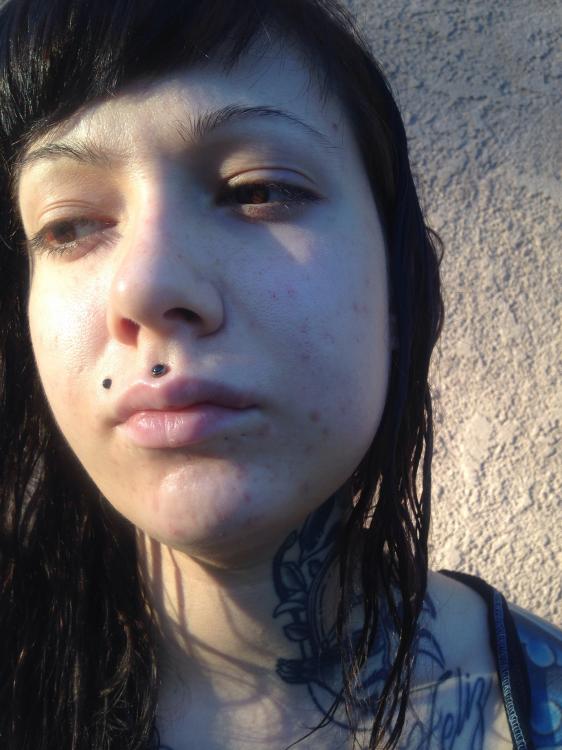 Excuse the swelling, had my wisdom teeth removed.
Im on Month 4 of Zarah and finished 1 month of 75 mg of spironolactone. Since im told theres about 25 mg of spiro in zarah, im just going to assume its 100mg
my chin acne is still prevelant. I got my wisdom teeth out so im currently on antibiotics for a week so the swelling as gone significantly down however I can feel so many just below the surface. I feel so tempted to use benzoyl or salycilic acid, but it just seems like all those do is irritate my skin. The moment I was able to wash my face, my acne started getting more obvious. So maybe I need to use zero products? I dont even know anymore. Im going to discontinue my aha to see if maybe thats causing the chin breakouts. I know its not the main cause, but idk maybe it will help.
I have a baby zit on my cheek and some underground one by my eye thats been there for a month or so, sometimes it looks like a bug bite when it gets irritated. Its very small, but just weird. The rest is on my chin, ive never had it this bad. This is a long purge if so. But it seems like its only on the chin, is that suppose to be an improvement? I start esthetician beauty school next week. I realy hope this clears up