acne scars and possibly the beginning of depression?
---
i'm 18 years old and I've had relatively clear skin for most my teen years, with only a few pimples here and there. But about 2 months ago I started breaking out randomly. The last month it got bad and the last week it got even worse. The right side of my face is full of red marks and acne where as my left is generally more clearer but has a number of marks and some scarring. I am probably to blame for some of this as i popped quite a few pimples. I know i shouldnt but thats honestly how i got through my earlier breakouts and it never scarred or gave me more pimples. But that isnt the case anymore, as i see faint scar near my nose and im also suspecting that a recently popped pimple might become a scar soon as well. I finally went to see a dermatologist. I havent seen a dermatologist in two years and that was for something else entirely, not acne. But now i saw her, and she told me i had cystic acne and prescribed me epiduo/aczone/ and aclictate antibiotics. I guess it might be just me, but i've always assumed cystic acne is like regular acne on steroids or something and I feel thats the kinda acne that really screws up people emotionally and physically. So when i heard about that, I was pretty scared- i still am. I'm also really angry as I was a very confidant and happy person until so recently. I never thought i was the greatest looking guy, but regardless I thought of myself quite highly and have approached women successfully with that attitude. But now my emotions are all over the place and confidence is at an all time low. I'm afraid to even look people in the eye outside of my family. Everytime my classes end, I rush home instead of hanging out with people or even working out. I used to be able to look in the mirror  sometimes and say my acne isnt too bad, its getting better. But after the last week, I dont even look in the mirror anymore and when i do, I get really emotional. All i do now is look at acne blogs, acne websites, acne this, acne that or sometimes i just waste time with other activities and mainly ignore my work. One thing i do alot now is look at old photos of myself throughout the years and get all nostalgic and angry. Cuz even if my acne clears, I will still have the scars to remember it. This shouldnt have happened to me. My skin was never like this earlier, why now? I was finally growing into the person i planned to become, and now im taking this huge sidestep in this other direction. i feel cheated. This semester is supposed to be extremely productive for me as I look into internships, jobs, learn more in my field, etc and i even had lots of hopes in terms meeting new friends and potential girlfriends. But all i do now is worry about my face and try to ignore it by playing video games or something. I never thought i would feel so sad this early in my life, but i do. Maybe depression is too harsh a term right now, but I'm really fucking sad. I feel my ambition, my drive, my sense of humor decaying and slowly dying. I just want to be cooped up in the house all day if i can help it. The picture below is of the more clear side of my face but has an acne scar in the upper right and under it has a popped pimple from a week ago that I'm suspecting might scar. Is the one below a potential scar?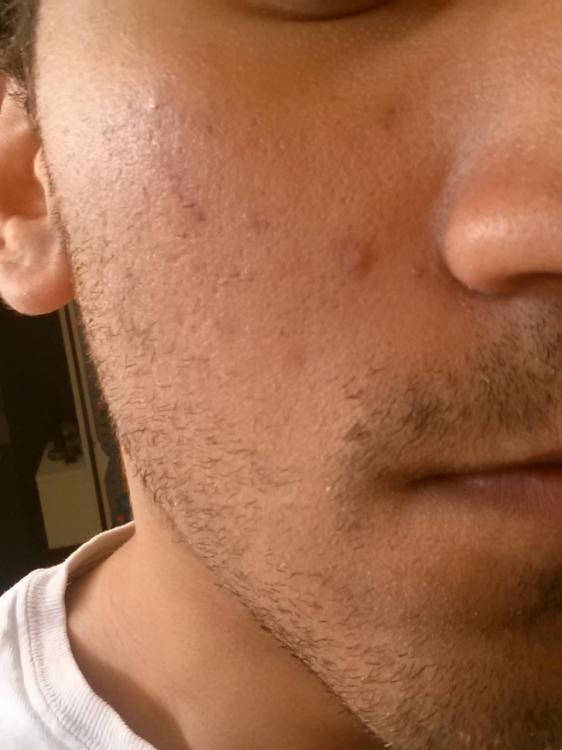 Do these shallow acne scars ever get better or worse over time? Could anyone whose gone through this help me get a better perspective on things?