Randomly popped by.
I started wearing makeup.... God, a year ago? Longer? Since then, was oil cleansing to remove the makeup, and this is what contributed to my skin issues. The oil itself is totally fine, not an issue, but the removal process was effing with my skin. Wash cloths are a huge no-no, cotton pads were better but still caused issues over time.... And cleansing oils with emulsifiers dry my skin out. I recently had issues with super irritated, red, burning, flaking eyelids from using cotton pads too frequently (testing out mascaras, haha), so that definitely made me realize that my issues were definitely related to exfoliation. And funnily enough, I KNEW that the cotton pads were probably behind me issues because I had similar irritation and dryness problems while using milk and micellar cleansers before joining Acne.org years ago, using these with cotton pads... but I wanted to make oil cleansing work!
Skin's been kind of crappy for a while because of the nearly daily exfoliation, leading to lots of irritation, dryness, dehydration, flaking, and some breaking out. Recently made some changes though and my skin is getting back to normal!
Current skin type
- Normal-combo (normal on t-zone, dryish on inner cheeks)
- dehydrated on cheeks and forehead
Current skincare regimen
Morning:
- Cleansing: If taking a shower, rinse with water (usually while I'm washing my hair). If not taking a shower, I might splash my face with water, otherwise I just don't do anything.
- Moisturizing: Mix water and oil (currently coconut oil) together and massage into face.
Evening or before working out:
- Cleansing for makeup removal: Massage oil (currently coconut oil) over dry face for a while until makeup is well dissolved. Rinse/wash hands, then emulsify oil with wet hands by massaging face for a while, rinsing hands every so often to get some fresh water. When my hands no longer pick up milky oil, I rinse my face a few times and pat dry.
- Cleansing if not wearing makeup: Either a) oil cleanse as listed above, b) just rinse with water, c) or I don't do anything.
- Moisturizing: Same as morning. If skin feels extra dehydrated (as it has lately) I'll follow up with another layer of oil without mixing with water.
That's about it. I can wind up washing my face every day or sometimes only like 2-3x a week. Still no schedule, I just go by what I feel like doing.
For makeup I wear Meow Cosmetics Purrrfect Puss in Persian Inquisitive-0 (might need to get the next shade up for summer though, but overall I think that the lightest shade still matches just fine - at most might need to add in a bit of a bronzer for slight warmth), sometimes adding Angora Inquisitive-0 in slight amounts during other times of the year. I don't have a go-to face concealer though, as their powder concealers I've found to be too dry, and I've yet to find a liquid concealer that is both light enough for my skin AND the right undertone, AND that also works well with powder foundation. Might have to look for other powder concealers but many contain bismuth oxycloride which burns my face something fierce! Using MUFE Lift concealer under the eyes in the lightest shade, which is still not light enough :/
That's about it, I'm still struggling with picking though which is why I have some brighter scabby things on my face right now

Here's my skin as of about 15 minutes ago: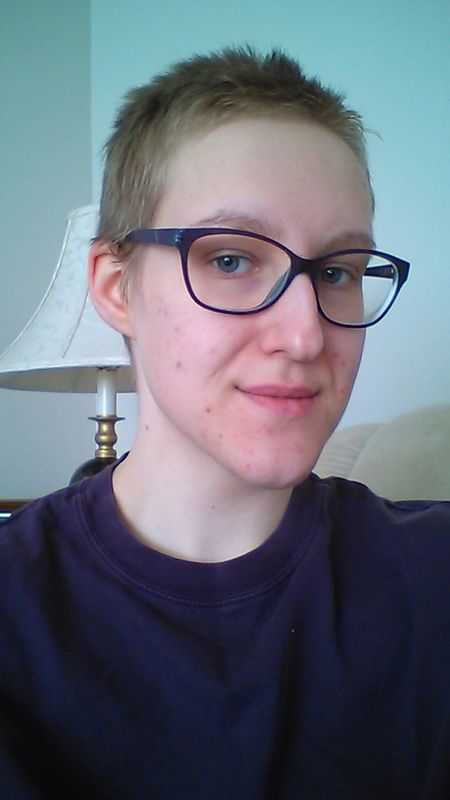 And unrelated to skin, I'm currently in the process of losing weight! I've lost about 32lbs in 8 months or so, with another 15lbs to go. My aim is to BULK late this year to put on mass, as my goal is get lean and very muscular!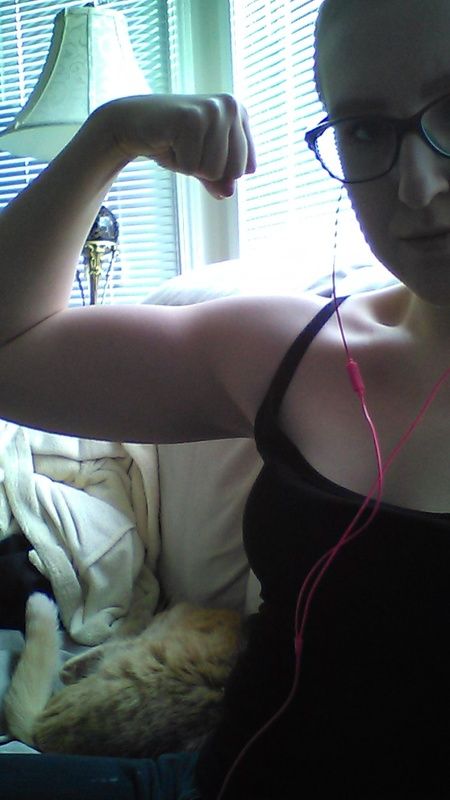 Oh, I also buzzed my hair in August 2014, and then again this January

considering keeping it short because I think it suits me better (especially as my face thins out) but I miss styling it curly

So yeah, that's about it! I'm on myfitnesspal as ana3067 if anyone's on there as well and wants to say hey. I am so grateful I did water-only and Caveman and I'm grateful that my skin has been improving again recently. I'm not really all that focused on my skin anymore, other than when I someitmes break out. But then it's still never as bad as it once was. I'm pretty much focused on my cutting and bulking goals (bulk in the fall!) and on graduating university this summer!
for anyone who bothers reading this and any of my old logs, blog entries, etc, hopefully they give you inspiration or perhaps will prompt you to try something different if nothing else has worked.