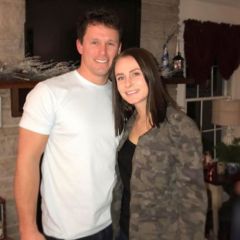 So far nothing really crazy. Symptoms I have:
VERY chapped lips. I have been using aquaphor every chance I get
My skin is still pretty oily, but my cheeks are sometimes flaky after I put on makeup.
Since it is really cold out it is hard to tell if my face is getting red from the freezing wind or the Accutane. Redness doesn't stick around though.
My scalp has been SOO ITCHY, afraid I am going to start getting dandruff soon from how often I scratch it.
I am starting to develop a couple pimples on my forehead, two small ones around my mouth and my chin has about 2 or 3 that I can feel forming. Also the bridge of my nose is developing one that really hurts and feels deep.
I just cannot wait to see progress on my acne scars. My makeup has a hard time covering how dark the hyperpigmentation is, but some spots around my temples have definitely improved. The cold weather seems to make my scars stick out more, especially when my face is flushed from the chilly wind.
My chest acne has not seemed to improve at all, still lots of small red dots. I have a date party for my sorority on Thursday, hoping all crazy breakouts can hold off until after then.