Tretinion/clindamycin Update (Day 105)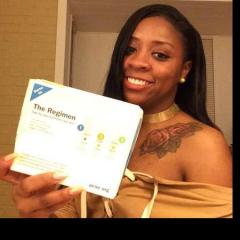 Hello there all, sorry for the delay in my blog posts. My summer has been very busy and eventful. I plan to update you all more often, post more pictures, and overall interact more! I PROMISE!

ok so lets catch up, as of today August 13.2014 marks day 105 with Tretinion and Clindamycin. To recap for those of you who arent familiar with my blog and my struggle with acne, I started using these topical back in april, april 17th to be exact. Since then i've been documenting my skin improvements with pictures, videos, and this blog! check out my last blog post!
i just wanted to check in with you all and let you my skin is doing great! I will attach photos on my next post! so stay connected! on my last visit to the skin docter she increased my dosage for the Tretinion cream, I now use 1%.For a couple of months i used the 0.05% which is what I was prescribed from the start. I continue to use the same facial wash, and moisturizer. (check last post for details) I still havent witnessed any massive breakouts nor reactions from these topicals- the process has been GREAT!!
my skin still isn't completely clear however it 100000000 times better (I will post recent pictures tomorrow) be sure to check in. thanks always for reading! feel free to post any comments, advice ETC!
STAY BEAUTIFUL! - Chaz