Hello Guys! (and Gals who don't like being called Guys)
Thought I'd entertain you with a picture (or pictures) I drew this morning related to how I feel about my own acne.
This last week has been nothing but a waiting game for me...
I wake up in the morning, eat my breakfast, go to school (research), and come home with a new pimple.
The end is coming (maybe, hopefully, plsgodsayitisso), but it is not here yet.
Sometimes I feel like my face is getting better already (minus the visible scars and hyperpigmentation). I think to myself, "If these 4/5 huge red pimples on my right cheek would go away, I'd look OKAY." And, just as those pimples begin to heal, BOOM, 4/5 new pimples start an inflammation party. What a never ending circle...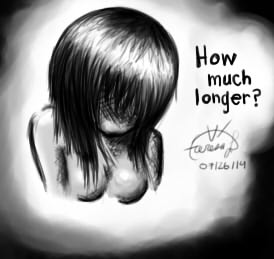 I said I'd only write when there was something new/interesting to write about, and indeed there is! I'm not sure this is for everyone to read though...
First Week of Ortho Tri-Cyclen -- The Strugglez
My period started on Monday of this week. Surprisingly, it was only 2 days late. This is the first time I ever bothered keeping track of the days between my period, because I always assumed I was too irregular to even try. ONLY 2 days late. Wut. So much wow. I did a lot of raging because I was hoping to start OTC on Sunday, but *shrug* First Day Start is okay too!
I take OTC at 7:00PM when I'm usually home and full of food. My first two days went without complications. However, I missed a pill on Wednesday because I went to the California State Fair and forgot to bring the packet with me. I was like "Only you're third day and you missed it already... Wow, you're so irresponsible Teresa..."
Anyway, I took TWO pills the next day as instructed by the OTC manual. This is when hell ensued. The first thing I noticed was nausea, similar to the nausea I get after taking a zinc supplement, but a little worse. I thought I could sleep it off, because that's what I usually do. However, I woke up 2 hours later, at 1AM, running to the toilet to throw up. Strange enough, my stomach was somehow empty (even though I ate chicken nuggets for dinner), so I only threw up air and spit.
I thought it was over after that. That's how it usually works right? I was wrong. Suddenly, my stomach was overcome with excruciating pain. If I had to rate the pain on a scale from 1-10, I'd rate it an 8 or 9. I didn't freak out though. This pain was all too familiar to me. I just had to sit on the toilet and cry for a very long time until my body got rid of whatever was making it angry.
After a lot of shaking, trembling, and sweating, thinking I was going to die the same death as Elvis Presley, my stomach finally settled down.
Pain over, right? WRONG. After my stomach was satisfied, I was overwhelmed with nausea yet again. I bent over the toilet I JUST flushed (eww gross) and threw up air and spit one last time. FINALLY, the strugglez were over. I crawled to my room, pulled myself up onto my bed, curled up in a fetal position, and FINALLY fell asleep.
I do not smoke, drink, or do drugs of any kind. Therefore, I don't remember the last time I had to throw up. It's been 6 years at LEAST. Now, I have incentive never to miss a pill!! If I do, it's R.I.P. Teresa.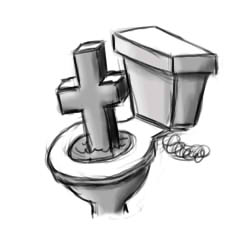 Current Progress --
My current progress right now is no progress at all. I have 20+ inflamed pimples on my face. This does not include the smaller ones I don't even notice because of the ugly redness of the larger ones. One of my pimples is even black in color. Kind of scary... I noticed that I experienced no new break outs WHILE I was bleeding. The moment the bleeding stopped, WHAM, a million new pimples popped up. Great. I wish I could stay inside and hide for the next few months ;~;.
Welp, I hope you enjoyed my episode of Traumatizing Toilet Troubles, and let us hope there won't be a second one.