Tretinion/clindamycin Update (Day 78)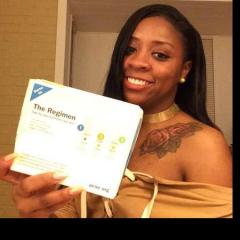 Heeeeelllllloooooo there beautiful people,
sorry for the delay in this post, I know I haven't checked in with you all in over a month- my apologizes!
well to get to the point, heres the 78th day update with using the topicals Tretinion and Clindamycin. I will attach a photo of a collage I have put together showing my before and after results while using these topicals. firstly,I would like to say, i am ecstatic with my results! my skin has cleared up tremendouslyyyyy, I am beyond thankful for these products! Im still using them nightly, and anticipating completely clear skin!
like any other product, it takes time and lots of patience to see true results. if you look back at some of my older posts, you will read how persistent i was with finally having my clear skin back. on the updates, I would discuss with you all the changes, side effects and improvements my skin was battling. however i stayed committed and patient with the process. well its been more than 2 months-almost 4 months in the difference in my skin is shining bright! it feels amazingggggggg for this longggg journey to be coming to an end! on my blog I talked about how my struggle with acne has caused stress, lack of self-esteem, the motivational killer, caused me to be anti-social and over all just not chaz- myself! After all these years, i can finally smile, I now see myself getting back to who i am, however a much better person. This entire experience has changed me for the best, i've learned so many things about myself. Overall this journey has taught me that I am strong, I will never alot anything to get me down and take me out of my character EVER again.
So to you my friends, I will say-stay STRONG! PATIENT! CONFIDENT! YOURSELF! please don't allow your imperfections to stop you from living your life. explore them, and create something beautiful with them! theres always a light at the end of that dark tunnel, continue to fight, and always stay yourself! you are beautiful!
thanks for reading! stay connected! comments are loved! -chazidi <3