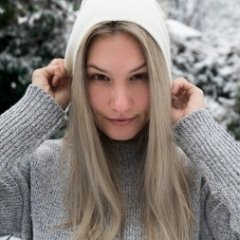 So, it is Thursday, middle of week 8 and, as badly as I don't want to jinx myself, I have some exciting news!
I am 99% clear! It has also been exactly one week since I started taking the peppermint oil. Coincidence? I think not. I think it's doing an absolutely outstanding job at blocking excess testosterone and the formation of DHT, which is the root cause of oily skin. I'm still a little oily but it doesn't bother me. Since oily skinned folks age slower than any other skin types, I don't mind a little excess oil as long as my makeup isn't sliding off and I'm not feeling uncomfortable, which is no longer the case.
I am able to wear less foundation now and I notice, after applying makeup, my skin has more of a glow. I look healthier rather than looking like I just am covering up a bunch of nastiness.
Even though I'm in week 8 with Retin A and these results could very well be from that product, I feel that this leap in improvement is more credited to the peppermint oil. I think both products are outstanding and will continue to use them indefinitely.
I don't expect to never breakout again, but the fact that I've had 3+ good skin days in a row is unprecedented with this regimen. Usually, I will have a single day of good skin (if even) before the next breakout. My skin looks more and more healed each passing day! I still have one underground zit on the right side of my nose. It was one of those big ones that never came to a head. It is getting smaller and less red but is still there. Other than that, my skin is looking great (as far as active pimples).
Another benefit of taking the peppermint oil is, I've noticed that I do not bloat NEAR as easily as before. I'm a small framed young woman, naturally slim and athletic. I can always tell, after a day or two of eating badly, that I bloat in my abdominal area. Since my stomach is naturally flat, it is always apparent when I'm bloating and it's always after a bad diet day. Well, I've been drinking sodas and eating out this past week and I am not experiencing the bloat I normally would. If you research peppermint oil, the main use of it is to help digestion and I can say that it is definitely improving mine!
Just so everyone knows, I use a therapeutic grade oil from Young Living. I have used oils from Whole Foods and Akins before with dismal results. Young Living is where it's at. I wouldn't recommend ingesting oils from any other vendors as they are more likely just perfume grade and are not pure. I take a single drop of peppermint oil in a glass of water morning and night.
Hope everyone is having a good week! I'll be back with more updates.