Paula's Choice Product Progress Blog
---
Going to put my info here here so I can keep track of it, and if anyone wants to check it out, maybe it will benefit you when using her products yourself.
So, I've been using Dianna Yvonne's 2% SA Exfol Serum for a year or so. I've gone through 2 bottles. As I neared the end of my second bottle, I thought about reordering but, I didn't think it was making much difference. I knew it was working somewhat because 1) my lips would dry out from the SA migrating to them and 2) my skin seemed better using it than not. BUT, I was still breaking out and I was a bit upset that when I tested the product with a pH strip, it was not nearly as low as advertised on the site.
I had also started using more vitamins. After reading that people with acne have lower Vit E levels and antioxidant levels, etc I bought a nice well rounded multi vit, a broad spectrum antioxidant, a Vit E complex (I didn't realize there were so many Vit E components lol). I also had been taking Vit D3 for seasonal depression but only 2,000 units a day. It didn;t seem to ward off teh blues as much as I would like, so I upped it to 4,000 a day. Then I read that our bodies produce 10,000 units a day from sun exposure (and a friend of mine who makes no Vit D whatsoever even with sun was prescribed 10,000 units a day) I decided I would double my intake again to 8,000 units. I have seen no ill side effects. My mood is better and I noticed my skin was not as oily. Vit D3 helps with hormones, too, so perhaos that is why.
Anyhow, My skin seemed to do better on this additions, but I would still get some spots. Well, in march I had some larger spots and I was probably a little too aggressive, causing dryness and just a big mess. Lots of moisturizer and gentle skin care helped them heal. In April I got spots again and I just had it. lol Ridiculous! Truthfully, I don;t know how to handle more "normal" skin. I'm used to greasy skin 24/7, so yeah..I didn't change my routne to suit my new less oily face. *sigh* I don't use a moisturizer regularly because I'm normally an oil slick. So, i was just drying out my skin without taking it's new property in consideration.
Ok, so on to Paula's Choice. I decided to buy some samples because they come highly rated. I was especially interested in the 2% SA stuff as maybe a replacement for the Dianna Yvonne. Online the website said it was at proper pH to be effective, etc.
May 18, 2014
I started using the 2% lotion and neutrogena 2.5% BP. I chose many samples, and decided to try the lotion despite me having previosu oily skin. I really like the lotion. It doesn't make me greasy/oily AND it seems hydrating enough I don't need to put a moisturizer on top. I'm also using my Neutrogen ultra gentle foaming face wash.
May 21, 2014
Been using the above for a few days. Today I went to church so I washed my face, used hydralight toner plus the hydralight moisturizer and put on my makeup. Wow--not oily and my makeup looked great.
May 23, been using the hydralight toner and moisturizer in conjunction with the SA lotion. Works great. This morning i washed, used hydralight toner, then topped with the BHA lotion and spot treated with nutrogena's 2.5 BP. Before out dinner out, I washed, used the clear regular strength 2%BHA toner then the hydralight moisturizer. Really like all these products so far. Glad they work well together!
May 28, 2014
So, my monthly friend showed up today. BAH. I ran out of my BHA lotion samples. So, trying out the 2% BHA liquid (which on site says it is the exact same as the clear BHA toner extra strength). Seems ok. A little oily like I read in reviews but putting on before bed.
May 29
Put the BHA liquid on this morning and night
May 30-June 1
SUCKS. I have painful spots. maybe cysts. http:////dn4iqhjvtt39e.cloudfront.net/messageboard//public/style_emoticons/default/smile.png It's ben a week off the liquid. I decided to try it again. Not on my whole face, though! Too scared! But i did ut it on the stubborn blackheads on my nose (I don't normally get spots there) and then dabbed a tiny bit on each of the remaining cysts that haven't come to the surface yet. We'll see what happens!
I also started adding a drop of ACV to my neutrogena cleanser to bring the pH down. It is at a 7. http:////dn4iqhjvtt39e.cloudfront.net/messageboard//public/style_emoticons/default/sad.png Needs to be closer to 5. Thought about trying PC, but many of hers has sodium laureth sulfate and I;m not a fan. However, the earth sourced (or whatever. it's in a green bottle and supposed to be natural) looks gentle enough and hopefully non drying. I think all of hers are at a pH of 5 or 5.5
June 9
Well nothing new popped up. Going to repeat it today. But only once per day. If all goes well, then I'm going to think it was either exfoliating too quickly or I was using too often and my skin couldn't deal with the irritation.(maybe that is what other reviewers expereinced, too) If I work up the courage to try it full face, and don't get a reaction like last time I think I will use this once or twice a week for a deep cleaning of pores. But, I'll stick with the regular strength liquid or the lotion (or maybe even the gel) for an every day maintenence. I haven't notice much difference in my red marks, though. I have a sample of the 10% glycolic acid but waiting to use that when my skin has calmed and cleared more. I'd also like to try out the reinol (I have used the .3% skinceuticals in the past and liked it). PC now has a new 1% formula! It is comparable to a.025% trenitoin.
Going to also try a sample of Paula's 2.5% BP..I'm almost out of my neutrogena and maybe hers will work even better!
Below are some images from the last 3 weeks. In each collage, the photos are in order from left to right: End of 1st week, End of 2nd week, End of 3rd week They are not miraculous, but some had gone and just left some red marking. The others are not as inflamed. I know it will take a while, so I'll keep on going, as long as it doesn't cause more problems than it solves. HA! But, so far, the only terrible reaction was the BHA liquid, so I think that' a positive sign. I think should make a note that the past few days i ate JUNK--as in pizza and sweets. Usually I stay away from processed foods because it seems they make me break out. I only eat them every now and again. However, it seems since I started my vitamins and such, I can be a little freer in my choices. Antioxidants help deal with stress to the body, so I'm wondering if now my body can cope interanlly with the onslaught of food irritations. lol (I'm not talkingn about gluten intolerance or allergies, etc). But white flour, sugar, etc in general causes systemic inflammation. Anyhow, I'm not emotionally stressed either, so I think my body has a very fine balance it maintains and if either one gets too high..well it can't cope. If I am stressed out and then eat bad food..it can't deal with both factors. Just some thoughts I've been kicking around lately as an explanation.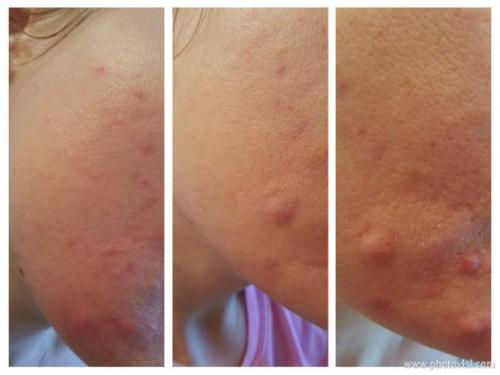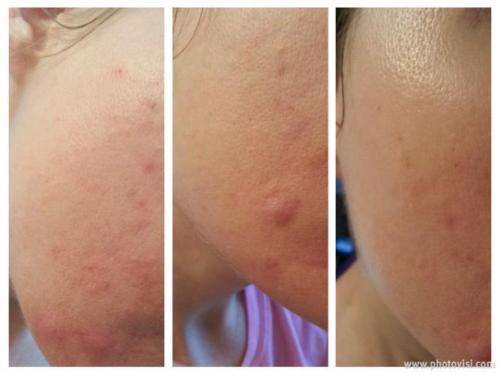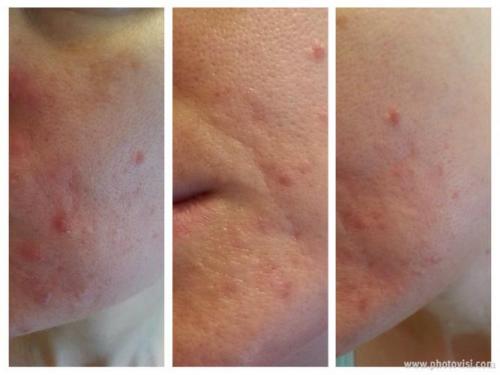 Updated photos: June 23, 2014
6 weeks using PC 2% BHA products--4 weeks of consistent 2%BHA Clear toner Big bumps gone. Pores still cleaning out and lesions that occur are smaller. Red marks still hanging on.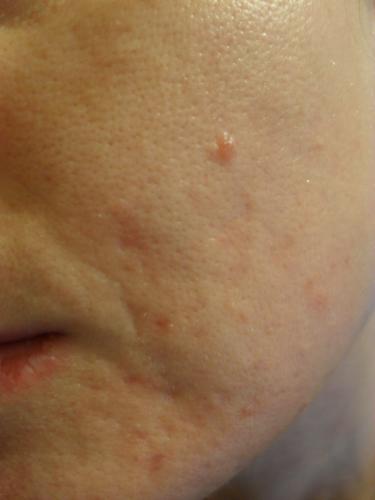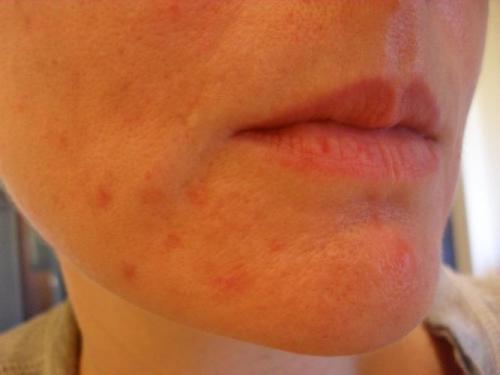 Updated photos: June 28, 2014 (photos from June 21)
11 weeks using PC 2% BHA products--8 weeks of consistent 2%BHA Clear toner Big bumps gone. Pores still cleaning out and lesions that occur are smaller. Red marks still hanging on. happy with progress--no spots due to *ladies time*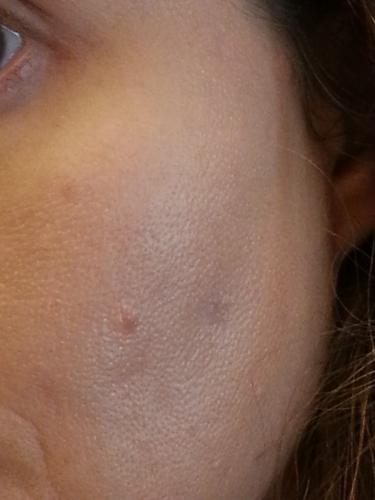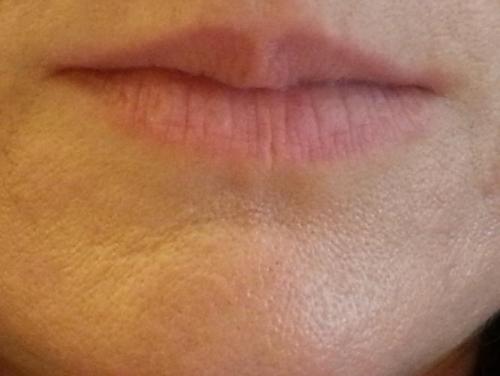 ===========
First 3 weeks collage and large photo on bottom is now (June 21) 8 weeks later
===========
15 weeks!!! Sept 7, 2014