Tretinion-Clindamycin Day 14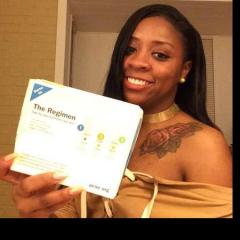 Hello friends it's been a couple of days since I checked in with you all.
Well, today is May 1st which marks day 14 on tretinion & clindamycin. Ok, I'm my last post which was day 9 I told you all how some of my blemishes were darkening. I even posted a picture.
As of today, those blemishes aren't as dark anymore & the sight of the old pimples has faded tremendously. I will attached a photo<-- which shows my skin after I washed it.
However as you can see, I am starting to witness dryness & peeling. Mainly in the corners & my mouth & under my bottom lip. The warning specially says, don't apply near mouth. Regardless, I see an improvement in my skin with these two topicals. So I'm really excited for positive results! My birthday is a month away & I will loveeeeeee clear skin! Or at least almost clear.
Stay connected!
Beauty&Blemishes.