I'm Feeling Good! Really Good!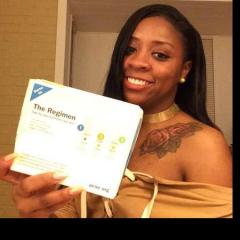 Hello beautiful people, as always thanks for reading! I'll try to keep this one short & straight to it! Key word "I'll try"
Ok, so basically to get to it, I'm feeling GOOOD! Like Im just happy. I feel more confident.... More understanding... Refreshed... Rejuvenated.. Appreciative...you know ALL that Good stuff.
In my last post I gave you all an update on my skin, I talked about things I stopped doing & some things I started doing! Within the last month, I learned soooooo much about skincare. With that knowledge I've been able to see a difference in my skin! (Wish I can show more than 1 picture) most of the pimples that were lingering on my face have dried up, scars are fading & new pimple are less than ever. At this moment I have 1 active pimple on my face. "1" pimple. can we all say "1" *laughs out loud*
This here is 1 of many reasons why I just feel good! My life these last 2 years has been challenging. I finally feel like I'm getting close to ending this chapter is my book. Trust & believe so many lessons have been learned through this struggle with acne. I've learned how strong I am, how determined...how beautiful I am.. So much!
Acne has been a energy drainer, a confident drainer, it's drained so much of how I am! However now, i feel like I'm falling back into that girl that I once loved, the girl who made everyone laugh, & smile. The girl who want let anything stop her EVER, the girl who believes in herself, & the girl who knows she's beautiful despite her flaws! This girl is FABULOUS!
Stay beautiful.
Beauty&blemishes