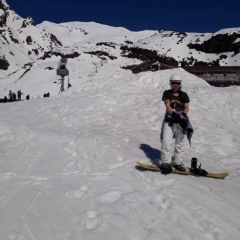 Entry posted by Jo NZ ·
235 views
Starting day nine today!
Eyes are starting to improve with some antibiotic drops that were prescribed by the Doctor. I think it was just a coincidence that my eyes had issues at the time of starting Accutane.
The dryness is my skin seems to have sort of gone away a little, and the over oily-ness I spoke of last time has died down too. Existing pimples are continuing to dry and peel off which is good I think.
No other side effects, still working out heaps and have had no issues with joint or muscle soreness. Feeling a bit more tired than usual, but that may be due to my eyes.
My lips feel a bit strange and are getting dryer, but I can deal with that. Using PawPaw Ointment on lips and there is no visible dryness - they just feel yuck.
I'm not sure what's going to happen with Initial Breakout. I have maybe one or two new spots that I would say are 'different' to the ones I am used to getting, but they're no big deal and seem to be healing quite quickly. I guess different as in they are not in the usual places I'm used to, and aren't as deep - if that makes sense.
Could this be my initial breakout?