Scared To Start (Regimen)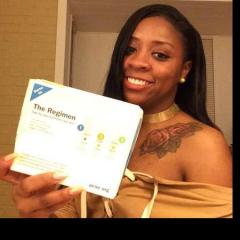 Ok, so yesterday I made a post telling you all how I received my free starter kit. Well today, I'm feeling so different about starting the regimen.
I don't think I'm going to fall through with it. From what I've read from others experiences you endured lots of flakiness, redness, burning, peeling, more breakouts etc. I know the process for getting clean skin takes time & sacifies, however at this point in my life I'm not ready!
Yesterday night, I broke down for the first time. My skin has gotten so bad within the start of the new year. Blemishes cover my jawline & cheeks. Every pimple leaves a mark, & breakouts are more frequent. SO STRESSFUL! I'm trying so hard to stay positive & optimistic! Therefore right now, the regimen isn't the best move!
The first move, is reducing the amounts of makeup, I'm now certain that makeup is the leading factor behind my breakouts. Today I plan to buy a concealer & stop the use of liquid foundation! I'm also going out today to look for something gentle that treats acne without all the extra side effects. Wish me luck! I'll keep you all posted on what I purchase.
Stay positive!
Beauty&Blemishes